Weekend Activities in Comox

Go for a Hike

---
My sister was getting married on the weekend, but wanted us up to Courtenay on Thursday so we could attend the rehearsal. Usually, when in Courtenay there is no end of family to visit (and I'm glad too), but with my sisters wedding on, that family was busy or I just wanted to get some exercise. I picked two different short activities to get outside:


A Walk in Paradise Meadows

I've been to Paradise meadows before with my sister, and it certainly is a treat to visit. Any kind of meadow is a delicate environment and the Mount Washington resort has gone to extraordinary lengths to make this an accessible location.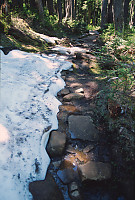 The trails go a long way into Strathcona Provincial Park. The short loop is up to the shores of Lake Helen, and then back to the Parking lot - a round trip of at least two hours. While I had my camera and my tripod, I was making very good time because I didn't have bug spray. While the bugs weren't biting (much) they were very annoying, so I would ensure my stops were as short as possible.
I had a bit more time than required to do the loop so I walked up the spur toward lady lake. The trail quality goes down hill in hurry - streams start to flow with the trail (a sign of heavy hiking damage) and muddy bogs were causing the trail to widen into the surrounding environment. I was quite happy to see Marsh Marigold - a plant I had seen a few weeks earlier at
Mount Cheam
.
I promised my grandmother I would call at 3pm (there is cell phone service up here), and I still had to pick up my tuxedo downtown, so I turned back and headed for the car.


I was very glad to get the opportunity to be in such a beautiful place - it certainly brightened up the weekend for me.
Stotan Falls

I have a guide book to fossils on Vancouver Island, and it recommends Stotan Falls - just past the junction of the Puntledge and Browns Rivers - as a good place to look for fossils. You can't collect them (not that I want any rocks to move around), but I thought it would be fun to see and if they were sharp, photograph.



The geography that makes good fossil sites seems to be hard layered materials like shale. That geography makes river channels like deep U shaped troughs - the river cuts vertically down into the landscape. Getting down to the river was a challenge - I wound up walking down a very steep dry creek and arriving on a thin ledge wedged between the thick forest and a deep, fast moving river.

The water is clear and it's quite easy to see the bottom - and the algae that covers it. I looked at all the rock outcropping trying to find anything that resembled a fossil and had no luck. Apparently the fossil museum in town runs tours of this area and I'll bet they have more luck point out where to look. At the same time, I was rather enamored with the falls so I took a few shots.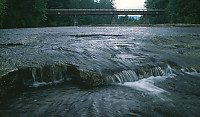 Rather than try and climb back out of the river trench, I thought would walk up the river a ways. On the west coast, there are two distinct hiking modes - Hiking boots, and well secured sandals (dry and wet). This would have been a good place for sandals, but the water was very thin so hiking up the river (in the river) was surprisingly easy.
---
Tags: Mount Washington(8), trail(4), waterfall(3), alpine(3), meadow(3), flower(3)
From: John Harvey Photo > A Weekend in Comox

Last Modified Tuesday, June 9th, 2009 at 00:51:20 Edit
Copyright and Contact Information.