Wells Gray

One of BC's larger and lesser known parks

---

I've driven by Wells Gray a few times while driving from Jasper down to Kamloops and wondered about the park. The Park has some exposure - there are several guide books published for the park, and I've met people who have been - more than I can say for most BC parks. Helen and I had some days off this summer and decided to go check the park out.

Spahats Provincial Park
It is impossible to get lost driving in Wells Grey. There is a single road in and it just goes deeper and deeper into the park. When you turn off the highway (at Clearwater) you aren't yet in the park - you have to drive 36km. Before you get to Wells Gray, you pass through Sphats Provincial Park.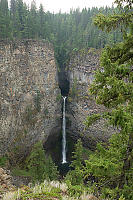 Spahats gives you a quick tutorial in how the valley is built. While you admire the waterfall, you notice the bands of basalt (slowly cooled lava) in the cliff walls surround the bowl carved by the waterfall. This whole area is a layer cake of hard lava and softer layers which leads to hard layers supporting dramatic undercut water falls.



You can learn a second lesson about Wells Grey here too - it's easy to walk to a viewpoint and see the falls. That said, it's quite hard to take a unique picture in this park because your choice is either a quick and easy viewpoint, or a multi hour walk to find a larger variety of viewpoints. After our 20 minute stop in Spahats, we continued toward Wells Gray.

Helmcken Falls
The start attraction of the park is Helmcken falls. This is one of the most dramatic falls in Canada and even though the viewing platform is a long way away from the water, you are struck by just how big this drop is and how much water is going over it every second. If you don't mind a bit of a walk (about 4km each way), you can walk to the rim on the other side of the river (and get a much closer (and unguarded view of the falls).


If you really want to do these falls justice, you probably need to walk up river to nearer the base of the falls - roughly a five hour return trip. Even then, you want the right combination of sun (later afternoon is apparently better) and weather (not foggy). Good luck!

Moul Falls
I really like the return on investment on this falls. It isn't a a drive up falls and it isn't the biggest drop in the Park, but this falls is the most fun. After about 45 minutes of walking, you walk down stairs to get to the base of the falls. From here you can walk around behind the falls and watch the water come over your head to fall in the pool. There aren't a lot of places this approachable.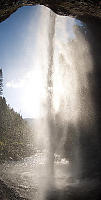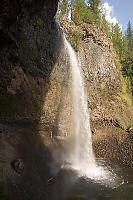 You get a sense of the different ecological zones here. Away from the falls, plants are adjusted to a mostly dry life where they conserve water.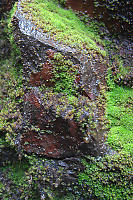 In the spray zone of the falls you get different species. Directly under the falls (where there is very little direct light), the rocks are covered in moss and algae. Just a little down river from the falls you see "stream bank" species such as Cape Jewelweed - a plant I have never seen anywhere else.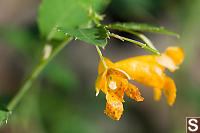 Ray Farm
Beyond the drama of nature, there is a human element to Wells Gray. This area was settled by pioneers before this was a park. Ray farm is what remains of the homestead started by John Ray. He cleared the land, built several buildings and is buried (with his wife) on the site. Hopefully, you won't be staying as long.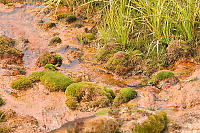 Located on the farm site is a large mineral spring. The water bubbles up an leaves the ground a rust colour. Moss grows closest to the springs, and just outside the moss zone is a variety of lush plants that apparently attract large grazers (not that we saw any). I could imagine that would be quite handy to have around if you were running a farm.


We went for a walk toward the other spring, about a km away. We found toads (or more accurately, toadlets) crawling in the dirt around the trails. These tiny toads (smaller than a dime) don't need to live in the water and looking to finding good places live. I've seen toads 5 times the length of these little guys - it surprised me how much growing up they have to do.



In the dry conditions, we didn't make it to the next spring. We decided to leave it for our next trip.

Trophy Meadows
Our guide book has a handy chart of which flowers are blooming in which month. By mid August, pretty much everything is done. End of August was the time we had so we had to make the best of it. Trophy Meadows isn't in Wells Gray (the turn off is just after Spahats park) and you drive up the mountain through an old clear cut until you get close to the parking lot. We came across a Blue Grouse on the drive up and the birds are so confident in their camouflage, you sometimes need to chase them off the road to get to go by.



Once we parked and got on our hiking boots, we hiked up into the unlogged forest. Pine beetle damaged trees are now common around British Columbia and these high trees were no different.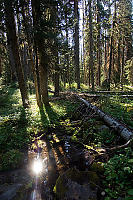 As suggested by the book, there were very few flowers (mostly Indian paint brush and some asters). Even without flowers, the meadows were quite impressive.


---
Tags: waterfall(4), trail(2), meadow(2), moss(2), sign(1), butterfly(1)
People: Helen(1)
From: John Harvey Photo > John's Overnight Page > Wells Grey
From: John Harvey Photo > Blogs for 2023 to 2005 > Wells Grey

Last Modified Saturday, January 21st, 2023 at 23:48:36 Edit
Copyright and Contact Information.