Whistler

it's cold!
---
It was the end of September and I just had to see some alpine flowers. Jer's friends were hanging out in Squamish so we set off to Sqamish.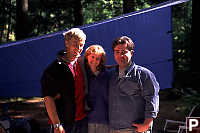 After visiting Nick, we went up to Whistler. We arrived at 5pm and got the discounted lift ticket up. It was rainy and cold.
As ugly as the weather was, the fields were blooming. From what I undestand, these fields have a growing season of a few months and blossum for a few weeks.
And the flowers were nice! The weather was passing - it was mostly dark, overcast and raining but there were short periods when the sun came out and lit up the flowers. I brought a tripod and most of the pictures required it.
And then a rainbow came out! Yeah!

---
Tags: alpine(7), meadow(3), flower(3), atmospheric perspective(2), summit(2), vista(2)
People: Jeremy(2), Karen(1)
From: John Harvey Photo > John Harvey Photo - Hiking > Hiking Around Whistler
From: John Harvey Photo > Hiking Around Whistler

Last Modified Saturday, January 21st, 2023 at 23:37:27 Edit
Copyright and Contact Information.