Whyte Cliff Park
---

The first thing I noticed about this site was how nice my boots worked. I ran down the asphalt to the beach and shot the cove.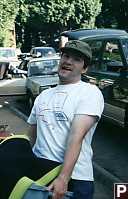 Gearing up was done in a nice little bit of grass. Pretty much every other group, and there were lots of other groups, brought all their gear down to the beach.

Perhaps the best part of Diving with Jason was the waiting. It sounds funny (it has hilarious coated in thick black neoprene sitting in the summer sun), but it did give me some opportunities to shoot.

We were last in, first out (go figure), but it did give me a chance to shoot some of the groups as they came out. It's funny how if you wave at divers just as they are first re-experiencing gravity's cruel burden this still smile and wave. Pulling your slimy body out of the brine, tank and weights still on feels like
These two hung out for most of the dives. I really though some chemistry was happening but I was (apparently) wrong.

More shots. What can I say? The obligitory shot of everyone at the end of the dive, more people coming out of the ocean, one of our poor dive masters.
My only underwater photos. Doh. Of course they don't encourage you bringing a camera when you are supposed to be learning but it means I don't have any pictures of the lunar like landscape of these over used sites. I also didn't have perscrition lenses in my goggles (which has more of an effect that I thought) so I really don't remember much of the bottom.
---
---
Tags: beach(2), Whytecliff Park(2), sea star(2), packing gear(1)
People: Mark(1)
From: John Harvey Photo > John Harvey Photo - Scuba Diving > Whyte Cliff Park
From: John Harvey Photo > Whyte Cliff Park

Last Modified Tuesday, June 9th, 2009 at 00:21:46 Edit
Copyright and Contact Information.