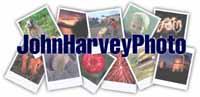 Hong Kong 5
Another trip to a "World Class City"

---
Helen has Family in Hong Kong so I have
visited
a
number
of times
before. (If you are looking for a "I have a few days in Hong Kong, what should I do - you should probably start with the entry from
Hong Kong at New Years
. (My 4th trip). This trip was pretty low key - we spent a lot of time shopping and since Helen is pretty pregnant, we didn't do much walking outside of what we "needed" to for shopping purposes. That said, there is always something worth seeing in Hong Kong so in no particular order, here goes...
Dim Sum
Dim Sum is quite possibly the most "Hong Kong" thing to do in Hong Kong. I'm not a big fan of pulling out a camera and documenting a meal, especially if it's a family event in a nice restaurant so I haven't taken photos of Dim Sum before. Things have changed though - food blogging is now common (OpenRice.com has thousands of postings in Hong Kong) so taking out a camera is no longer so weird. To make things even better, there is a highly fashionable (as in local's don't often go) Dim Sum place in the neighborhood - Tim Ho Wan (添好運). This restaurant rocketed to fame (and huge line ups) when it was awarded a Michelin star. If you arrive just after it opens (at 10am) you will be waiting 2 hours plus before getting in.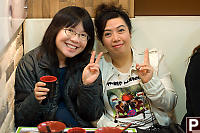 What got them their "notable" (star) was the baked "Char Siu Bao" - 叉燒包. These take about 45 minutes to make so you want to order as soon as you sit down. Most of the items are classic Dim Sum items - some with twists.


Hong Kong has many brilliant people looking to get around limitations. The long line ups make this restaurant hard to visit, especially if you have a large party. They don't do take out so if you want to experience you have to visit. The "get around" that people have found is to reserve for one person and then order enough food for six. They pack this food up as left overs and leave while it's still hot. If enough people do this while you are visiting, expect a long wait for your food to come - the kitchen isn't that big.

Worth a three plus hour wait? Maybe. Worth getting a ticket early and checking back? Yeah.

Fruit and Vegetable Markets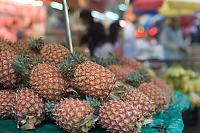 Fruit and Vegetable markets can be found almost everywhere in the older parts of Hong Kong. The markets reflect the neighborhoods so watching to see what is for sale will tell you a little bit about where you are walking. I frequent two markets - the tiny markets nearest Helen's Grandparents and a larger markets on Canton Road (West of Nathan Road, south of Argyle). For the first time, I noticed that the selection (and more obvious - quantity) of product varies with day of the week - Friday night produce stands are overflowing, but on a Tuesday morning you can expect sparse pickings. Being Asia, there is a great selection of fruit year round. Being a world city, you find seasonal treats from both hemispheres - Japanese Strawberries (further North) were common, as were Southern Hemisphere blue berries. Durian could be found, but it was pretty rare.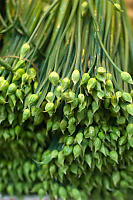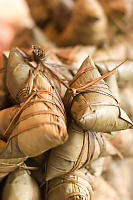 The mechanics of selling is always interesting. Many products are bundled - 15 dollars (about 2 dollars Canadian) buys you 4 dragon fruit. 10 dollars buys you 4 large or 5 medium sized star fruit. On the other hand, some vegetables are sold by weight - Gai Lan is frequently about 7 dollars a "pound". Weighing is done by either a pan scale (what a westerner would recognize) or a stick balance with a free weight (you get to do the math).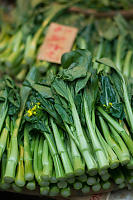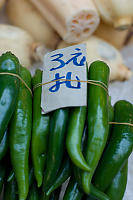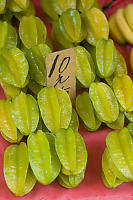 Meat Markets
Meat markets are more challenging. Freshness is job one so inventory control gets quite a bit of effort. While you can easily buy an orange at 10pm, there is no way you will find a meat stall still open.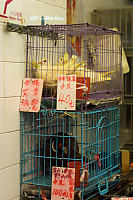 Of course it is freshest if the animal is still alive when you pick it. It used to be that you could bring live chickens home to slaughter yourself, but avian flu being what it is, home slaughter is no longer an option. You pick a bird (and a lot more than chicken is available - there is a ring necked pheasant in one cage) and it is slaughtered, cleaned and dressed for you when you come back after some period of time. Almost like Safeway!


Buildings In Scaffolding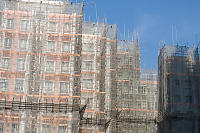 I live in Vancouver and we had a leaky condo crisis so from time to time you see buildings wrapped in plastic and having their exterior replaced. In Hong Kong you see buildings scaffolded when they get a paint job, exterior repairs or updates. Unlike Canada, the scaffolding is bamboo tied together, even up to 50 story buildings.
Life In Hong Kong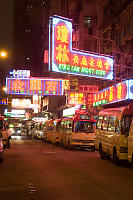 Apparently Vancouver was once famous for it's neon lights the city government changed a few bylaws (specifically that you had to take them down to service them) and the neon quickly disappeared. Hong Kong on the other hand has embraced it's neon traditional (at least in Kowloon) - many huge signs are up to date and amazing. Taking good photos of them isn't very easy.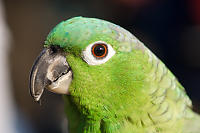 I visit the bird market pretty much every time I visit Hong Kong. The first time I was faciniated by
birds in cages
. The second time I was facinated by the
people that own the birds
. This time I saw more birds outside of cages.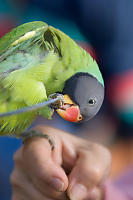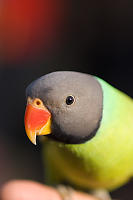 The best time to visit the bird market is definitly on the weekend. More people are out and you are more likely to catch the interaction of owners, birds and people new to bird ownership.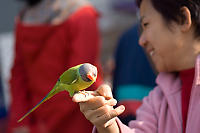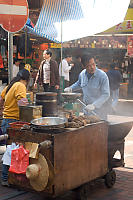 Helen and I are also big fans of
street food
. By far the most common (and often unlicensed) mobile vendor in Hong Kong are the roast chestnut/yam carts. These have burners on them to roast chestnuts and a bag of hot chestnuts costs only a few dollars. These carts are all over the city and worth the support.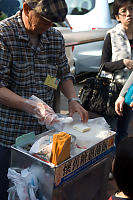 A new one for us this trip was candy vendor (licensed). The snack is basically cane sugar pulled into a honeycomb shape, packed with coconut and wrapped in a flour wrapper. Apparently this treat goes back hundred of years - it was certainly popular with the kids!


Hong Kong is filled with random moments - sometimes it's getting your glasses from a shop the size of a phone booth, other times it's seeing beets as bonzai. Hong Kong is an amazing, dynamic city that always has something new to discover.


---
Tags: Hong Kong(13), food porn(12), produce(5), bamboo steamer(5), street photography(4), building(4)
People: Helen(2), Jennie(1)
From: John Harvey Photo > Trips out of the Country > Hong Kong 5

Last Modified Sunday, September 26th, 2010 at 08:43:41 Edit
Copyright and Contact Information.