Calgary To Jasper

Riding along the Icefields Parkway

---
It was nice to see Mike and Val and we pretty much disrupted their life style for our two day visit. Mike cooked us breakfast and we were on the road just past 10. Back past Canmore, past Banff and then a stop at Lake Louise. The weather wasn't great so we stopped in at the lodge and had lunch. After lunch, clouds retreated a little, we went out to take some pictures:



Back on the road, this time a new road - the Icefields Parkway. The clouds were crowding out the mountain tops, but the views were still terrific.


Athabasca Glacier
Another stop on my childhood memories. When I was a kid we took the buggy ride on top and I remember the creeks on top. We were coming up on sunset at the prospect of paying $30 to walk around on a glacier for less than half an hour. We walked on the bottom and looked at all the tracks leading out of bounds.

As we headed north, the clouds broke up giving us views of the mountain tops.


Athabasca Falls

Athabasca falls is another place I remember visiting as a kid. The sun was starting to fall behind the mountains when we arrived so there was limited direct sun light.



Just outside of Jasper (as just before sunset) we found a small herd of Elk grazing at the side of the road.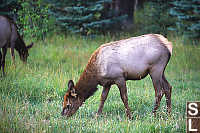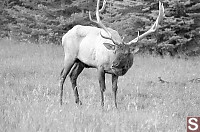 Day 6:
Jasper to Lillooet
---
Tags: mountain(4), Rocky Mountains(4), waterfall(2), lake(2), hiking(2), BC fauna(2)
People: Karen(3), Jeremy(2), John(1)
From: John Harvey Photo > A BC Road Trip > Calgary To Jasper
From: John Harvey Photo > John's Overnight Page > A BC Road Trip > Calgary To Jasper

Last Modified Tuesday, June 9th, 2009 at 00:47:10 Edit
Copyright and Contact Information.