Big Bar Ranch
Part 2 of our Summer Trip

---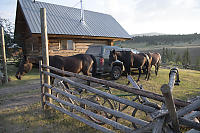 Our First Horseback Ride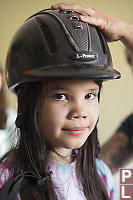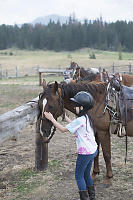 Town Day!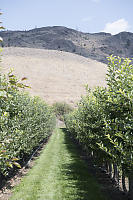 Finally we drove up to Clinton and stopped in at Hunnies for an ice cream. Helen found they also carried garlic products from a farm near 70 mile that we like so we wound up buying an arm full of dressing mixes. Ice Cream is already good, but Ice Cream on a hot day is fantastic.
Big Bar Lake
Fraser Canyon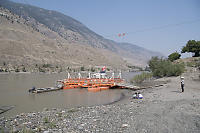 We had horseback riding booked for Sunday, but a horseshoe appointment pushed our ride from the morning to the afternoon. Looking at a map, Big Bar Ranch isn't on the Fraser Canyon, but the Fraser river is close. We decided to drive down a check out the reaction ferry to get you across. We got to the river side and found at least a dozen big trucks. The ferry operator was on a break and we weren't in a hurry so we chatted with the truck operators. They were workers from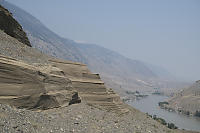 Second Ride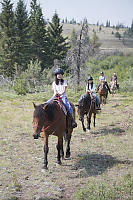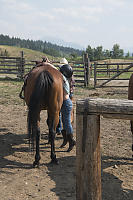 When we got back to camp I asked about Teddy. Turns out Teddy hasn't been ridden in more than a month and he is just out of shape. The horse wasn't at risk and needs a bit more work to get into shape, but carrying children isn't going to do it. You see a pattern at the ranch - the first day, the parents ride with their kids. All of the rides after that, the kids go out with the guides and the parents stay back at the ranch. Helen and I rode more than any other parent we saw in the ranch.
Third Ride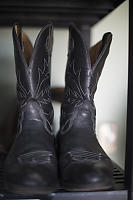 Claira had somewhat of a Disney view of horses - she just wanted to be it's friend. After the horse obeyed her direction, she would give it a pat on the bumb. The horse of course has it's own brain - It wants to stop for a snack and stay a certain distance from it's trail mates. The horses don't watch out for branches that will hit you, but not the horse - that is your job. As you ride with a horse, it can become quite sensitive to your input - a small pull on the reins will redirect it. That said, sometimes it needs reminding that you are in charge and little kids can have a hard time pulling up a horses head and giving it a hard enough hit. Claira ultimately needed a "go" stick to hit her horse because it just ignored her. At one point her horse wedged itself next to some trees (and nice grass) and Claira had a hard time getting the horse to go sideways enough. The guide used horse relationship to sort it out - her horse is not liked by the guest horses - it isn't part of the Big Bar herd and it chases the other horses. When the guide rode face to face with Claira's horse, Claira's horse backed down and did the right thing. I was impressed.
Big Bar Lake Hike
The last time we went to Big Bar Lake, it was a Saturday and there were a handful of cars parked in the parking lot and a few other people in the lake. When we arrive on a Monday afternoon we had the day use area all to ourselves. I went for a quick swim in the lake (it sure feels nice to cool off), applied a lot of sun screen and started walking for the Otter Marsh trail.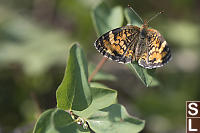 Day Trip to 100 Mile House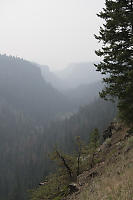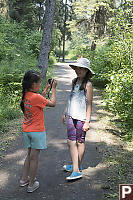 Drive Up To Long Lake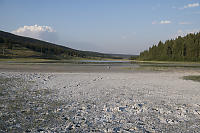 Fourth Ride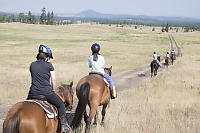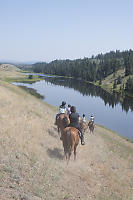 Drive Back to Fraser Canyon
I decided for another early evening activity - drive one of the roads above the Fraser Canyon to look out of over the Canyon nearer to sunset. After dinner, I put the camera and tripod in the truck and drove off to see the Canyon.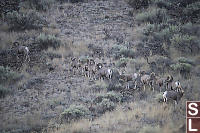 I wasn't far down the road before I spotted movement on the high side of the road - a dozen Big Horn Sheep were making good time up a trail. They didn't like it when I stopped and setup my tripod, but what can you do.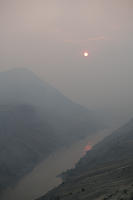 Wildlife Around Camp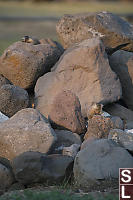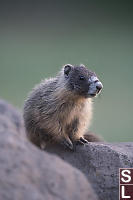 ---
Tags: horse(12), butterfly(4), dorsal(3), swimming(3), lake(3), fence(2)
People: Nara(10), Claira(10), Helen(1)
From: John Harvey Photo > Blogs for 2021 to 2005 > Big Bar Ranch
From: John Harvey Photo > John's Overnight Page > Big Bar Ranch

Last Modified Sunday, October 17th, 2021 at 23:15:19 Edit
Copyright and Contact Information.