Europe HR Trip
My first trip to Europe.

---
Stockholm
For a first place in Europe for a Canadian to visit, Stockholm is easy. The ride in from the airport takes you through forest, the city is small (by European standards) and while there is enough different to make it foreign, it's very english friendly.

So why was a I Stockholm? Basically to party. Our company was hosting a number of recuiting events in European cities to help spread the word that we are hiring and we are a good company to come work for. I was there to answer the "in the trenches" questions and provide the occassional bit of tech support. We had four events planned over the two weeks.

We had a day or two to acclimate. I woke up early one morning to go for a walk around "Gamla Stan" - Old town. It's basically Robson street from Vancouver, a few hundred years old.



Our first event was at a club called Opera, in what used to be the city opera house (before they build a larger one). We rented the space from the afternoon until about 11pm when it reverted back to being a club.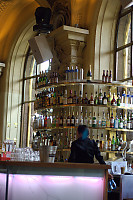 The event itself went off almost flawlessly. About 20 minutes before the show started the projector stopped working. Much panic - we were using the on site A/V equiptment and didn't have a backup. 5 minutes before show time a replacement cable arrived and we were golden.

The after party (when Opera went back to being a club) was quite interesting. As an engineer, I don't spend much (any!) time in clubs normally so I had no idea what to expect. Expensive drinks - approximatly $10 a drink. The music was fine - nothing exceptional. Thankfully no smoking. I retreated back to the hotel around 2:30am.


I had the next morning in Stockholm before my flight. I visited the Vasamuseet (Vasa was a big ship - Vasa Museum - now you speak Swedish). I love that the most popular museum in Stockholm is based on a bad engineer mistake made by managment (Royalty) that shouldn't have made the call they did.



Needless to say, I was impressed. The ship was lost in 1628 just a few hundred meters from the dock it launched from is almost flat seas.


Turns out it was way too top heavy (someone wanted a good view) and too wide to be stable. Had they loaded it with sufficent balast to keep it from rolling, the bottom row of gun ports would have been underwater.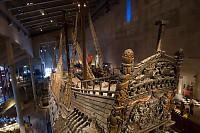 The museum is literally built around the ship. It is very well restored and the original materals and workmanship can justify any proud Swede - they make good stuff. Too bad about the managment.


Manchester

Western Civilization (the grade 12 class) had a huge impact on me. I lived in towns that didn't have particularly big art galleries, the churches were relatively modern (as almost everything in Canada is) and as a family we didn't travel to Europe. Western Civ could be summarized as two things - paintings and places of worship. Manchester Cathedral probably doesn't show up in any top 10 list of Cathedrals, but it was my first European Cathedral and it had an open photography policy.



The Cathedral was badly damaged in World War II, but it's suffered damage in many other events through time. The features we learned in class (this is the nave, this is a chapel) we identifiable. The part that really surprised me (compared to the churches I visited as a kid in Canada) is how little of the overall space can be used in a single sermon. The modern churches I've seen are effectively one large box with seats over most of the floor and occasionally additional rooms for a nursery, kitchen and so forth. The Cathedral layout was more like a vast farm that had been split into many different plots by brothers that didn't like each other - a number of beautiful small spaces but no single grand area.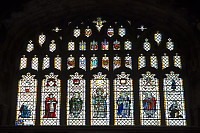 Stained glass was always a favorite of mine and again I was surprised. I was expecting large glass panels telling stories about various old saints and religious events. Perhaps the odd dragon or devil, lots of quotes from the bible. Turns out most of the windows were just patterns and many of them weren't event that direct. My favorite was a window rebuild after an IRA bomb blast damaged the church in 1996 - it mostly looked like fire.

Going from one religious location to another, our event tonight was at Old Trafford, home of Manchester United - arguably one of the best marketed names in the entire world of sport. We took over the sports bar to hold our event.


As sports bars go (chicken on a stick) it really wasn't bad. More than Stockholm, this audience was keen to hear alternatives. A large local games company was going under and another was in trouble - we met artists and engineers looking for a parachute. It was a good (and I believe productive) evening.

We had our first (and only) train ride. We took one of the leaning trains down to London. Compared to skytrain in Vancouver, it was pretty cool. Compared to the bullet trains in Japan, it was pretty sad. That said, train seems to be a beautiful way to see a country side.

London
We didn't have long in London - in Friday, out Monday morning, but there is a lot to see in a short walking distance. I saw the British Museum (or the building we put up to house the stuff we took). While the architecture was very cool, the thing that most caught my attention was a first edition copy of Shakelton's trip notes. The Elgin marbles were cool but another reminder of how poorly we seem to get along. I really liked the British Art Gallery but of course no photos there either.

Big Ben was actually my biggest surprise impact. The houses of parliament are beautifully decorated with a crazy degree of detail and big Ben stands out as an engineer marvel of the time.

We took a "flight" on the highly branded British Airways Eye of London. Like Tokyo, I was disappoint with how flat london is.


Edinburgh
We spent the last few days of our trip in Edinburgh. August stuffs Edinburgh full of festivals - the fringe festival, the comedy festival and (much smaller scale) the Edinburgh Interactive Entertainment Festival. The flights up were full and the hotel situation was bleak. My trip was booked after everyone else and unfortunatly I was booked at the airport Hilton rather than the swanky but full Hilton Caledonaian where everyone else was staying.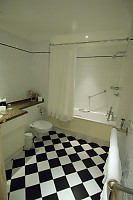 Ever the optimist, I asked at the London Hilton (when I checked in) if I could move my booking in Edinburgh. The front desk person couldn't do it but she gave me the number of the hotel in Edinburgh so that I could call. She gave me the wrong number - coincidently a number for a different hotel chain. When I got the correct number, it turned out the Hilton Caledonaian was full (no surprise). When I arrived in Edinburgh (at 8am - remember, festival means crowded flights), I dropped in on the Hilton Caledonian - the front desk told me no luck - they were book up solid Tuesday night, but free the remaining nights.


A few hours later I asked again (optimist remember) and it turned out the desk staff read the computer wrong - while they were overbooked (by 3) the computer estimated they could overbook by 10 and with cancelations still be OK for the evening. I took the booking - I never heard if anyone was turned away. Leason learned - if you want to stay at a Hilton, be prepared to ask 4 times because they don't seem to know how to use their computers.

The room was quite nice though.

The festivals were going full stregth by the time we were there. The fringe festival (already off mainstream) has a challenge - how do you get people to buy tickets to shows they have never heard of (no branding) and have to select out of a program of several hundred shows? Street preformances of course! It seems that most of the extroverts in the UK were here and it was fun watch.




If you are more traditional, you can go to the castle take the tour. Like other castles I've been to, it's been rebuilt a number of times and the guide can tell you what's old an new.


The Edinburgh Military Tattoo
When I grew up I head lots and lots about this Tattoo. First, tickets were impossible - they sold out months before. Second, it was the most amazing event that you had to see at lease once in your life. Turns out the ticket thing wasn't impossible - the ticket office sells returned tickets every morning so if you don't mind lining up for a few hours before (I was there at 8:20 am - office opened at 10am - and I was about 20th in line) you can get tickets. Amazing? It was pretty good, but it is very pro military. We had dinner at our hotel this night and then walked up to the Castle. We didn't have a lot of time and ran into the largest security lineup I've seen in my life. The lines processed quickly and we were seated moments before the Tattoo started.

Most amazing thing? How they can convince so many strangers to sit so close to one another. Getting a tripod up was nearly imposssible.


The show is made up of a number of performances. It starts with piping and traditional performances like Scottish dancing. The combination of well practiced high quality performances and the Castle backdrop makes for a great show.



How's that go about Modern being crap? The mounted motorbikes were a bit of a surprise as was the Mambo fire dancer. The Russian dancers were really good.



There was "rapid reaction" demonstration - how 3 times the force and 5 times the hardware could take on some guys joyriding in a truck. It was cool - my favorite part was the spent cartidges being picked up afterwards.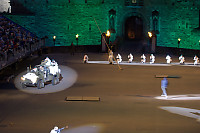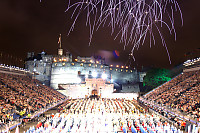 Overally, a really good show. At this point, we had been in Europe for two weeks (or more) and we welcomed coming back to Canada. Turns out the day before British Airways had suffered a strike (the food services company was outsourcing more) and the flights were jammed full of people trying to make up their missed flights. Oh, and no food on the planes. I was happy to land in Canada.


---
Tags: performance(12), place of worship(8), costume(6), castle(5), translucence(4), stained glass(4)
From: John Harvey Photo > Trips out of the Country > Europe HRTrip

Last Modified Tuesday, June 9th, 2009 at 01:05:02 Edit
Copyright and Contact Information.