Grandpas 80th Birthday

And some clever quip...
---
It was a dinner part so we a had a little time to consume before we went ot Jennifer and Davids house. We decided to stop in at
Kitty Coleman Woodland Gardens
for an afternoon walk. We had the gardens pretty much to ourselves - this garden peaks in rhododendron season and the late summer was not the ideal time to visit. They had a trail down to a close by stream and we managed to find a few frogs jumping around.
After our pleasant walk we arrived at the farm. Jennifer and David are running an organic, free range chicken farm and this is the first time I've seen them with full grown chickens. It was hot day so the chickens were pretty inactive, but I enjoyed taking a few shots.




The warmth may not be great for chickens, but kids certainly do seem to enjoy it. Justin was our catching grasshoppers - I think his low to the ground stature gives him a bit of an advantage over us taller kids.


But this is a birthday after all! Dinner was served, cakes brought our, candles blown out.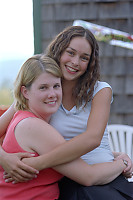 It's always good to get family together - see everyone soon!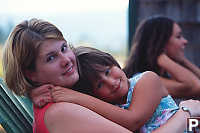 ---
Tags: BC fauna(2), amphibian(2), insect(2), farm animal(2), chicken(2), shallow depth of field(1)
People: Kayla(4), Justin(3), Janet(2), Philip(2)
From: John Harvey Photo > Pictures of People > Grandpas 80 th

Last Modified Tuesday, June 9th, 2009 at 00:58:36 Edit
Copyright and Contact Information.