Hong Kong (the second)

A brief stop over and shopping

---
Last year I
visited Hong Kong
for two weeks and saw lots of tourist and non-tourist things. This year I was in Hong Kong for a week and we spent much of the time shopping for wedding type things. That said, just moving around Hong Kong is sight seeing and I did take a few pictures.
Last time I noticed the bamboo construction scaffolding, but I didn't really wind up with a picture I liked. This time I spent more time taking photos of construction which is pretty much everywhere. Inevitably, this lead to pictures of markets.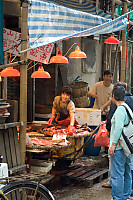 Markets really are everywhere in Hong Kong so it's all too easy to just bump into one.


Man Mo Temple, Sheung Wan (Central)

There is a photo of the coils of incense on the inside cover of my guide book and since we were in the neighborhood, we dropped by. It's the smokiest temple I've every been too and I thought lots of fun to take photos of.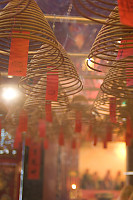 Urban Street Life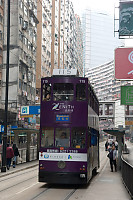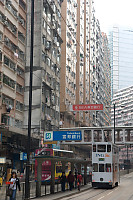 I wonder if the buildings in Hong Kong are a glimpse into Vancouvers future. In some places, they form canyons infested with limpet air conditioners and drying laundry. Lower units are further parasitised by signage for ground level retail. It must be amazing to be at the bottom in a typhoon.

If you divided up all the sidewalk in Hong Kong between the millions of residences, I wonder how much each gets? It's an amazing example of time/space division multiplexing, but it's not without routing challenges. I was particularly impressed with these games - I wonder if there was money involved.

---
Tags: Hong Kong(14), incense(5), place of worship(5), Man Mo Temple(5), market(4), city(3)
From: John Harvey Photo > Trips out of the Country > Hong Kong 2

Last Modified Saturday, January 28th, 2023 at 16:11:06 Edit
Copyright and Contact Information.