Ranthambore

The place to see Tigers

---
India is a big place. I had three weeks in the country and I knew I couldn't see everything (in fact, I couldn't see a quarter of it), so after I picked a few of the obvious things (
Taj Mahal
, a
Camel Trip
on the recommendation of a friend), I was quite surprised to find I had lots of time and not a lot of things to do. I started looking into wildlife and discovered safari's.
India has several famous national parks, but for the part of India I picked for this trip (the North West bit) Ranthambore National Park kept getting mentioned. The park is famous for tigers, but it's also scenic with ruins from hunting forts. I did the trip adviser thing, found a resort/hotel with good reviews from photographers and took the plunge. They gave me more detail of the bookings and we decided on 4 nights and approximately 7 safari's.


My original plan was to arrive by train, but I would up arriving by car. Just after I arrived, I got into an impromptu tour in a Canter (a large truck like vehicle that holds about 30 guests) and got a sense of the park. The canter stops at a number of the large hotels picking up a few tourists at each stop and then pulls up to the gate of the park. The park is split into 5 distinct zones and the staff give each vehicle a "zone" that they are allowed to drive in for the morning or the afternoon.



Different zones have different features. Early December is still pretty wet so animals aren't drawn to water holes. Zone 3 has large lakes which make for some beautiful bird watching. Zone 4 is hilly but still has some nice water. Zone 2 has little water and some fields, but in the 4 days I was there, no tiger sightings. You don't get to choose your zone - the guide is given the zone as he enters the park. Caught in the wrong zone? The guide, the driver and their vehicle get banned - perhaps a week, maybe a month I got different answers.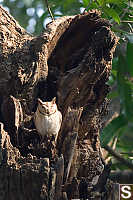 Even when there are no tigers, the guides do a pretty good job of trying to keep it lively. Since the guides are here every day, they know the favorite perches and where to look for birds. Some of the smaller predators like jackals can show up pretty much anywhere.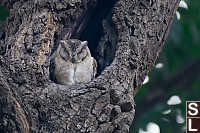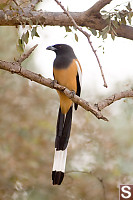 Some of the birds are pests in India (the same way we see sea gulls or crows) but to the untrained westerner they seem quite pretty and a prize to see. I was quite excited to see this bird (trying to get a snap) until it flew up to the vehicle to check me our.





Other birds (herons) seemed to me out of place. Why is a bird I might expected to see in Canada hanging out here? There seemed to be many more species here than what I'm used to seeing around Vancouver, but it's probably because I'm so used to the Vancouver wildlife.






The Food


The park has an impressive selection and density of herbivores. During the wetter seasons there is a lot of food available so herds of animals form. The park is quite large (the area traveled by the jeeps is actually only about 10% of the park) so there are lots of places for animals to go. The prey species are very used to the jeeps riding by, although they apparently get nervous if the jeep just sits there, like they are waiting for something to happen.




After your first few safari's you no longer stop to take pictures of the prey animals unless they are in good light or have a lot of visibility. It can actually be annoying to be in a jeep with newbies when they point at every spotted deer and you just want to go find tiger, even if that means waiting somewhere for an hour while listening to alarm calls.



The Tigers


Everybody goes to Ranthambore to see the tigers. At the end of each safari the people in your hotel will ask you if you saw tigers. There are no guarantees and you are unlikely to see a tiger on any particular trip, but given enough safari's (the number seems to be about 6) you will get a sighting. Not necessarily a good sighting, but a sighting.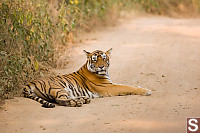 I had my first sighting on safari number 2. We were in a jeep that crossed into the wrong zone (intentionally) to follow a hint that the park wardens had given us. The tiger turned out to be in thick bush and the best sighting was as he crossed the road between vehicles. I was quite disappointed with the photos I got - most had unacceptable amounts of shake or were just two far away. My Nikon 200 F2.8 was defiantly outclassed by the Canon 100-400 IS lens in the jeep. I really hoped that wasn't going to be my only sighting.

Safari 7 (of 8) and we were going into zone 3 (probably the busiest, but with the most water) and made it perhaps 100m into the zone before we stopped - there was a tiger sleeping on the road. Sensitized by my first experience shooting, I took lots of frames of a bum facing tiger on the road. Every moment felt like a blessing. The tiger was far from full frame, but there was enough there to get a good shot. Our jeep was #2 into the zone so we had a really good shot. Larger vehicles stacked up behind us but because there was only one way into the zone (this road) no one could pass.

After about half an hour, the tiger got up, stretched, and started walking. I expected this tiger to move off the road and be lost in the brush, but she didn't. She kept on walking. Bum shots generally aren't compelling so while I was happy to see the tiger, I wasn't getting great shots. As the tiger walked down the road, she passed a fork and then another. The collection of vehicles behind us were unleashed and everyone jockeyed for a safe but good view. My driver was brilliant - he went further ahead than other vehicles, but set us up for good shots as the tiger walked by. These shots in the dry scrub are some of my favorites.


The tiger found another nice piece of ground and went for another nap. We waited for probably 45 minutes while this tiger napped. We hoped she would attack some of the nearby sambar, but she didn't seem interested. After her nap, she again got up and walk, and again we were positioned brilliantly for the walk by.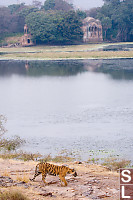 The tiger walked nearer to the shore of the lake and into the taller grasses. Again, jeeps tried to get in front and get the best shot and my driver did well in mix. Eventually, this harried tiger walked into the taller grasses near the lake and because unreachable. As she disappeared, we could hear monkeys giving alarm calls - no luck for the tiger.

The next morning, the park was closed. The courts had ordered it closed because the ministry of tourism in Rajastan was not addressing a lawsuit in a timely manner. The park remained closed for more than a week so I was very fortunate to have had the experiences I did when I did.

---
Tags: India(36), safari(35), bird(14), fort(1), grass(1), bird in flight(1)
From: John Harvey Photo > India > Ranthambore
From: John Harvey Photo > Trips out of the Country > India > Ranthambore


Beautiful photographs, especially of the tiger.

Useful information and facts about the park.

Alok Tayal
Monday, January 5th, 2009 at 07:29:13

the photos are nice

kalpana
Monday, April 4th, 2011 at 08:03:47

beautiful shots.... very creatively taken....specially love the pictures of the tiger....

shamara
Monday, April 25th, 2011 at 20:20:46


Last Modified Saturday, January 21st, 2023 at 23:44:28 Edit
Copyright and Contact Information.