Western Rajasthan
Two pretty cool cities

---
Jaipur
In the original plan, I wasn't even going to Jaipur. Jaipur is one point of the golden triangle, the other two being Delhi and Agra. There is an amazing fort here, high end hotels and even an airport to avoid the not so great roads connecting Jaipur to Agra. When I changed my itinerary, I got two nights in Jaipur and a day to see the sights.

My first sight was the winds palace. It was actually just down the street from my hotel and is one of those attractions that looks neat from the street but (my guide told me) isn't worth going into.


The Amber Fort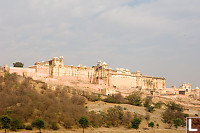 If the Taj Mahal is the first sight of India, it's possible that the Amber Fort is second. If you come to India for a week and do the Golden Triangle trip you are seeing three cities - Delhi, Agra and Jaipur. In Jaipur, the #1 attraction (besides the markets) is the Amber fort. Dozens of tour buses park in front and you can tell the money, sheparded tourists are in abundance. That said, the Amber Fort is actually pretty good.

I walked up the back set of ramps and came to the large courtyard outside of the royal residence area. Elephants with money tourists (it only costs 200 rupies - $5 - for the ride up) roam from the gate to the unloading area. The Elephants are well decorated and as my first experience seeing Elephants in India, I was impressed. These really are magnificent animals.


We spent some time exploring the courtyard. There is a large raised area where the Raj would meet the common people and hear their complaints. The gate seperated the bounds of the royal family (and probably an army of servants) from the common people. The walk in is twisty (lots of opportunities to kill people they didn't like a lot) and then you come into the inner palace.

I was quite struck by the gardens. You are actually looking at three different palaces - a winter, a summer and a monsoon palace. Each has engineering tricks to make the weather more reasonable.


The most impressive palace is the winter palace. Normally this area would be enclosed in hanging rugs and rugs would cover the floor. Candles would light the space and the millions of mirror would provide a star lit environment. It must have been magical.



We toured other parts of the fort. We saw the appartments for the queens (each with secret stairways so people could move up without being noticed) and the other palaces (water works to keep the place cooler).

The Tiger Fort
The tiger fort was down the ridge closer to town. It was built durring the period of British occupation so while it still retains Indian design, there are a number of distinctly british influences such as the fireplace in the wall. This fort was almost empty - no people to get in pictures.
This fort is built around 9 "households" for 9 wives. Around the top is a an accessway so that guards (and possibly a Raj) can look into any of the households. Being built on top of cliff, I really wonder how water worked.
Jantar Mantar - The Astronomical Observatory
We drove back to town and then stopped at Jantar Mantar - the Astronomical Observatory. It's a large complex of buildings using the sun to figure out first what time it is, and then where they are in the season.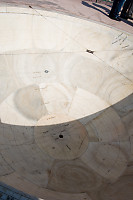 While they are made of stone and don't include lenses, their sheer scale makes them high precision instruments. The several story sun dial can tell time to within minutes. A number of other instruments (which are largely redundant) are beautiful to look at just because of the construction quality.


Gaitore Cenotaphs
The Cenotaphs were kind of a surprise for me. They didn't show up big in my internet search, but they turned out to be quite a sight. In India, if you are Raj or have the means, after you die your body is cremated and your ashes spread in the Ganges. That doesn't leave much to comemorate you. So while they aren't graves, there are Cenotaphs. These opulent marbled buildings are built for rulers and their children, often when the ruler is still alive.

You can walk through the complex (there is no charge for admission or even staff, but there is a temple next door). In general in India, in Holy places you take off your shoes and this place is no exception.


The detail is amazing. Touching the surface you can feel detail that isn't obvious to the eye in day light. I was amazed.


We did a bit of shopping (I purchased some fabrics) and then I went back to the hotel. I had room service while I watched stupid movies on HBO. It's amazing what helps you get over the culture shock. The next day we left by car and drove the 200km down to Sawai Madhopur and my hotel next to
Ranthambore National Park
.
Jodhpur

After my stay at the park I wanted to go for a camel safari in the Thar desert. I wound up overnighting in Jodhpur because there was no reasonable way I could get to Jaisalmer in one day. I stayed at a small hotel I booked myself, arriving at midnight. The night guard checked me in and I went to bed waiting to see what the new city would be like.


Jodhpur isn't one of the big three and it doesn't take very long before it sinks in. The traffic is a little thinner and the markets that much less spoiled by catering to tourists only. I wound up really liking Jodhpur.


The Mehrangarh Fort
My first Tourist destination was the fort that dominates the skyline. I picked up a taxi at the gate of my hotel (he had the name of the hotel on the front of the tuk tuk) and he turned into my driver for the whole day for about 300 rupees.

We stopped at a few places on the way up (he obviously understood what tourists want) and then told me to meet him when I got out - pay later. A bit of trust, but it got him my business for the day.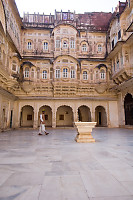 The fort was spectacular - best on I saw on my trip. This fort was used in war and was never conqured so it remained in good shape. The audio program that went along was also top notch.



Inside the fort buildings is a museum of weapons and carriers for royalty. While it was all top notch, I was already tired of museum tourism - I wanted something more lively.


I asked my driver to take me to the market so I could go for a walk. Tourists being the big money, it was no problem to find a nice internet cafe ($1 an hour) where the owner will get you whatever snack or drink you want while you use their computer. India being 12 hours out, the afternoon is the worst time to try and talk to people in Vancouver, but it's not a bad time to catch up on e-mail. E-mail (along with the movie channel) can do wonders for dispelling culture shock.


Jodhpur's markets are well known for their spices. Rajastani food can be quite spicy (sadly, most tourist serving establishments default to "painfully mild") so I can imagine the spice is consumed in large quanities. A few vendors have figured out how to make "travel" packaging, but there was no way I was carrying food for two more weeks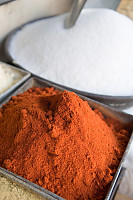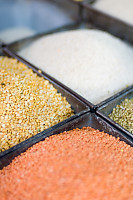 Markets are also a great places see people. I found Jodhpur quite friendly - vendors were generally fine with me taking pictures and I got a minimum of hastle from people. The tourist oriented shops (selling textiles) were a bit pushy, but that is to be expected. I found a shop under the temple that I found some of the my best purchases in India - they had high end textiles I couldn't find else where. In general when looking for soveniers, finding high quality was my biggest problem, not price.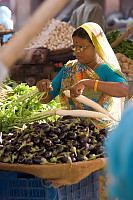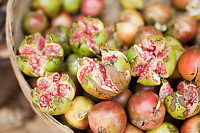 I had to be up really early the next morning to take my train to
Jaisalmer
so I came back to the hotel early and retired with room service and a movie on the TV. At this point, I really enjoyed traveling in India.
---
Tags: India(43), fort(11), market(11), architectural decoration(7), palace(7), clock tower(5)
From: John Harvey Photo > India > Western Rajasthan
From: John Harvey Photo > Trips out of the Country > India > Western Rajasthan

Last Modified Tuesday, June 9th, 2009 at 01:18:35 Edit
Copyright and Contact Information.