Nara

The Birthplace of Japanese Civilization
---
Before Kyoto became the capital of Japan, the capital was based in Nara. Now Nara seems like a smaller town that still has a few surprises. My good friend Mark lived and worked in Tenri (half an hour south), but he always mentioned Nara. So we went to Nara. We weren't alone.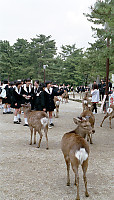 Nara is probably most famous for it's deer. A close second would be the unending streams of school students being chased by the deer.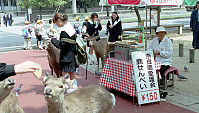 Once we got used to the deer (and the swarms of students), we started to explore the town. First up was cash - the hotel in Kyoto took either cash, or cash. No credit cards, no travelers checks, no foreign cash. Yeah. Anyways, we went to this pretty anonymous bank in Nara and in a few minuets I had 70,000 yen burning a hole in my bank account. Or not - surprisingly, I didn't get billed until 2 months after we came home. Thanks for the loan Nara Bank!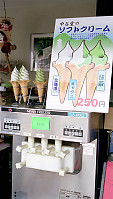 Mmmm, Ice cream. We can get green tea ice cream in Vancouver, but it somehow tastes better in Japan.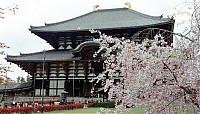 Mark told us we had to see Todai-ji. The never ending stream of students were all going in the same direction and for good reason - even after a week of temples and shrines, Todai-ji is impressive. Guide book says: "Todai-ji was founded in 745 by Emperor Shomu. It took 15 years to build, and is currently the worlds largest wooden building. The current temple was built in 1709 and is two-third's the size of the original".
The temple itself is amazing. You start by walking though the huge wooden gate (Nandai-mon - Great Southern Gate) and into view of the huge court yard. The courtyard has a large lantern in the center and smells of the incense burned at each end. Walking up, the temple completely dominates your field of view. The inside of the temple is relatively dark (The materials at the time didn't allow for sky lights), so you don't see what's inside until you are almost on top them.
Impressive doesn't being to describe the statues inside. The central statue (first two images) is made of bronze - depicts Rushana, the Cosmic Buddha who presides over all levels of the Buddhist universe (or so says the guide book). Apparently the head fell off in an earthquake and and his right hand has melted twice - in two separate fires. The guard statue (third image) is my favorite.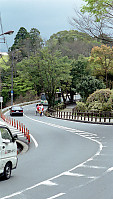 Being a week and half into the trip, having seen Nikko and Kyoto, we were templed out. The guide book suggested a local photography museum so we walked over and took a look.
The exhibit (which was very good) was about temple statues.
We caught the local train back to Kyoto and then boarded the Shinkansen on to
Toyohashi
to see Deca!
---
Tags: Japan(14), temple(6), crowd(2), deer(2), statue(2), bank(1)
From: John Harvey Photo > Trips out of the Country > A Trip to Japan > Nara

Last Modified Saturday, January 21st, 2023 at 23:39:47 Edit
Copyright and Contact Information.