Nikko

Temples, Temples, Temples.
---
After acclimating to Tokyo for a few days, it was time to get on with the rest of Japan. Nikko was our first stop - it's about an hour and half North West of Tokyo. Mark (who had lived in Japan for a year) had highly recommended Nikko so we made it first on our list of destinations. The first challenge was getting there: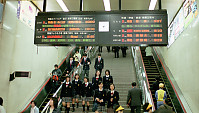 Having figured out Tokyo's subway, boarding a local train from a department store wasn't so hard. Once we arrived we checked into our Hotel - the
Turtle Inn Nikko. We had booked it through the Japanese Inn Group in Tokyo - a smart move. The people in Tokyo call ahead and book you the rooms and they speak both Japanese and English so they can clear up any problems. The hotel (which is written up in many guide books) was our first authentic stay.
The Hot springs fed bed was great after our day of walking - but I'm getting ahead of myself. We needed lunch. Badly. The guide book suggested a small yakitori bar close to the temple entrance. Again the book hit the mark:
Cheap (for Japanese standards), this small place has three tables and wonderful owner/cook/waitress that speaks a little English and is praised in all the guide books. She was interested to hear what our guide books said about her place - and after making and bringing us lunch, she stopped and talked with us for a while. After lunch, it was on to the temples.
Nikko has lots of temples and a few fares. We picked up the "two-shrines-one-temple" ticket for ¥900 and proceeded to see everything we could. We started with the Shoyo-en Garden (and the treasure house - like much of Nikko - no photo's allowed).
And then we went into the larger temple complex. My favorite was Tosho-gu Shrine - it has a small courtyard and a number of practical buildings like storehouses.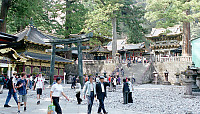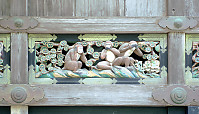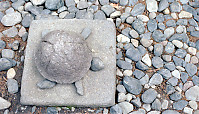 But Tosho-gu is a small part of the larger set of temples. The temples themselves have wonderful details and highlights - there is always something catching your eye.
One of my favorite parts of the temples was the guards and mystical elements. This guy, who at first I mistook for a high school math teacher, is the god of thunder and protects one of the gates to the temples.
The second favorite part of the experience was the land itself - there are hundreds of cedar trees on the hills and it reminded me of home. Many of the temples are built on the sides of hills or in small valleys, leading to wonderful views.
The temples closed way too early - 5:30. We walked back to our hotel and then took a stroll down a path just up the road. Similar to Tokyo, we found these statues outfit in red. I'd love to know the stories behind some of these statues.
So after a very pleasant evening (and an authentic Japanese dinner) we got up the next morning and took the Shinkansen north toward Joanne and Aizu. This was our first exposure to shinkansen, and we were very impressed. The stations are very clean and orderly (even if we didn't understand entirely what was going on). The trails run frequently and we had no problems getting tickets to our destination.
We took the Shinkansen to Aizu-Wakamatsuwhere would spend the next 2 days.
---
Tags: Japan(17), temple(4), train station(3), hotel(3), garden(3), statue(3)
From: John Harvey Photo > Trips out of the Country > A Trip to Japan > Nikko


The statues with the red bibs are Jizo's. You can read about them on Wikipedia which will tell you a bit about their meanings. I'm sure you found them all over Japan.

Anna

Monday, September 24th, 2007 at 16:12:34

Hello, just a note on the guys in red, my sister lives in Tokyo, and has visited Nikko many times. She took us there when we went to visit her, and she says they are Bahko Jizo (I'm not 100% sure of the spelling). And widows and women who have lost their children dress them up in red as an offering so that they will watch over their loved ones in the afterworld. I'm not sure if its true, but it sounds nice doesn't it?

Jill Pawlyshyn
Tuesday, March 25th, 2008 at 17:37:16


Last Modified Saturday, January 21st, 2023 at 23:39:44 Edit
Copyright and Contact Information.