Tokyo
Our first few days in Japan
---
The flight over was uneventful - JAL did a good job. After arriving at Nariata airport, clearing customs and taking the train into Tokyo we took a local train to Shiba, a diplomatic neighborhood south west of Tokyo Station. On the local train over we saw this curious poster - it's an advertisement for "life partner" a drink. We knew we were in Japan!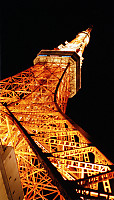 We had no trouble finding the hotel. Trying to get used to local time (8 hours out from Vancouver) we went out for dinner and a walk. The Tokyo tower is a few blocks behind the hotel so we walked up to see it at night.
Zojo-ji - Shiba, Tokyo This temple is about a two blocks away from our hotel. Terribly jet lagged, we woke up at 5 in the morning and walked around to try and gain our bearings. The temple was pretty much empty (except for a very curious jogger) so we didn't see what the temple was actually used for.
Shinjuku Shinjuku is a very busy part of Tokyo. On the West side of the station is one of the business centers of Tokyo. You are swarmed by thousands of dark suited men rushing toward their jobs. The building are tall and the architecture is grand to match. We visited the Tokyo Metropolitan Government building and from it's observation deck got a true sense of just how huge Tokyo is.
The brochure makes a big deal about how tall the various buildings are - the Metropolitan building building is 243 meters tall - the tallest in the Shinjuku region. Considering it's an earthquake zone, it's impressive. Consider the tallest residential building in Vancouver is just a few stories shorter, well, lets keep moving.
Out next stop was the
NTT Intercommunication Center
. This Museum is one of the coolest museums I've ever been too. It's temporary instillation showed traditional objects like a music box or keyboard and using a reflection from a computer monitor, allowed you to interact with with it virtually. The other highlight was a Carl Sims instillation of
Galapagos
- Carl is one of my heroes.
After seeing the big buildings, we went to the east side of Shinjuku. The East side is a trendy, shopping friendly, red light kind of place. Most of the buildings are multi story shops where you take a small elevator to the nth floor and go into a few person bar. Cool to see, very expensive to drink at.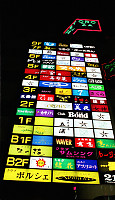 The Tokyo Hostel
Our first night's hotel bill was 25000 yen - almost the cost of a week rail pass. We checked into the Tokyo Hostel for the following days. The hostel was nice (clean) and had both Japanese and Western amenities. It was close to a train station and was in a somewhat residential neighborhood. I feel sorry for our room mates (8 people per room) - we woke up at 5am (jet lag) and were gone by 7am (just after breakfast).
The Emperors Castle
It's impressive - what more can you say. The Castle has a massive moat and even larger stone walls. We were able to visit the garden area inside which must be amazing later in the spring.
Close to the Emperors castle is Ginza, a very nice shopping area. We stopped in at the Sony Store - a 7 story mecca for the technically inclined. Sean stopped to check out the MD players - a technology on that never really hit North America.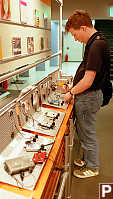 Odaiba Odaiba is a large island in Tokyo harbour that wasn't there 100 years ago - it's part reclaimed land, part land fill. Odaiba is very new and seems very western. First we walked though a new mall (very western scale) that was very similar to Ceasers Palace in Las Vegas.
After the Mall we checked out that auto show. Toyota has a large building that shows most of their cars (and a lot of Japanese models we don't have in north America), a section on their race cars, and some of their industrial vehicles. You could buy most of the vehicles there (including the $200,000 dollar bus) but we didn't see any of the sales people. They had a short test track where you could test drive vehicles - pretty cool.
Odaiba also has a huge ferris wheel. We took a trip around. There seemed to be many fairly young couples there taking the trip but we didn't see what they were up to in those private cars.
We went to a restaurant named Decks for dinner. The restaurant has an amazing view of the harbour and food is pretty good too! There were a few tour groups at the restaurant including one made up of senior citizens. I hope when I get old, I'll be brave enough to continue traveling.
We started walking back and noticed the giant wheel is all lit up to attract tourists. A few pic's and we were off by train.
We returned to the hostel and tried to get sleep - our next day we traveled to
Nikko
.
---
Tags: Japan(21), Tokyo(6), city(5), night(3), temple(3), bridge(3)
People: Sean(1)
From: John Harvey Photo > Trips out of the Country > A Trip to Japan > Tokyo


wow that a very cool adventure a great experience

veNcenT bOtOna
Sunday, December 13th, 2009 at 21:45:42


Last Modified Tuesday, June 9th, 2009 at 00:35:02 Edit
Copyright and Contact Information.