Amanohashadate

One of Japans' Most Beautiful Places
---
After four great days in Kyoto it was time to move on. Amanohashadate is on the northern shore of Japan, facing the Sea of Japan and is connected by train to Kyoto. We caught our bus (after 10am to try and avoid squishing people with our big bags) and then caught a train north. We stopped to change trains and grab lunch in Toyo-oka - a small inland town. The areas around train stations are always different than the rest of town, but these two vending machines caught my eye - the beer vending machine sells cans up to 1 litre and the sake vending machine sells containers up to 900ml.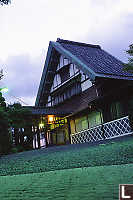 Somewhere, Japan made a list of the three most scenic views in Japan. Amanohashadate - "Bridge to Heaven" is one of them. This long strip of sand and trees crossing the harbor is what people come to see. If you are going to stay, you might as well stay at
Genmyoan
- it has the prized view from every room.

Genmyoan is classic Ryokan (Japanese Inn) built in the style of an English cottage. Ihe materials are luxurious - the stone entrance way where you take off your shoes and put on slippers is a work of art. The Tatami mats are springy and smell very fresh. The Yukata were sized to us, and the tanzen (outer jacket for warmth in the fall/winter) was nice. Andrea's set came with three obi (belts) - but our maid helped us through that. Tabi socks (which didn't really fit me) were included.


It was early afternoon so David, Mark and I went for a walk while Andrea stayed up in the hotel and painted. When we went through the lobby, the manager asked if we wanted a ride down the hill. When we politely refused, he mentioned there was a phone at the bottom of the hill - we could use it when we got back and he would drive down and give us a ride up. Nice.


The village at the bottom was quite - we are far off tourist season. We met a few foreign tourists walking around, but the tourist stores selling regional food and treats were pretty much empty. The spit was quite.



All too soon it was time to go back for dinner. We walked back up the hill (we couldn't ask the manager to come get us - that was just wrong) and took in the view once more. We were served dinner in a different room - our maid served us a half a dozen courses, all very well presented. The desert was pealed grapes and pear.


After dinner we used the hotel bath (The view was closed off because of the cold), and Andrea used the huge tub in the room. They had an interesting selection of reading in the entertainment room, but all too soon I went back and to sleep.



I woke up early to take in the view. All too soon, we needed to be on a train in what turned out to be the longest day of train riding any human has ever had to endure.
Next:
Matsumoto
---
Tags: Japan(12), place to stay(4), vista(2), vending machine(2), plant(1), bamboo(1)
From: John Harvey Photo > Trips out of the Country > A Second Trip to Japan > Amanohashadate

Last Modified Saturday, January 21st, 2023 at 23:40:47 Edit
Copyright and Contact Information.