Kurokawa and Takachiho

Nature makes lovely things

---
Kurokawa Hot Springs
Kurokawa hot spring is collection of 24 onsen ryokan - Traditional hot spring baths with attached traditional inn's. The inns are booked for months in advance, but are beautiful traditional buildings. We drove the half hour from Oguni and arrived in Kurokawa just before lunch. We visted our first hot spring (split up - we were a large group). After a relaxing soak we got together and had lunch at a vegetarian tofu store. Mmm, so good.
A few Inn's sell hard boiled eggs, cooked in the hot spring water. We visited two more springs - we were getting very clean!


I was to busy soaking in hot springs to take photos (and I doubt the inns would appreciate my camera), so you'll just have to visit yourself!

Takachiho Gorge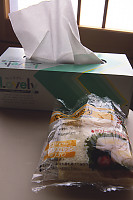 If you read the guide book, there is one route from Kumamoto to Beppu - through Takachiho. When we got our hands on real maps, we found the route wasn't as direct as we hoped. We arrived late at Takachiho and missed the play they are famous for, but we didn't miss the Takachiho gorge - a wonderful bit of geography.



The boats are available for rent (they hold 3 people) at 1500 yen for 20 minutes. The gorge itself is carved out of volcanic rock and water falls gently cool the air. We arrived early in the morning so the gorge wasn't very crowded.


We had a great morning, but we had to get to Beppu (and the rail network) and get Eric and Gabi home so they could teach the next morning. We decided to take a twisty road to Beppu (it was an unbelievable road). We arrived at Beppu shortly before dark and with the help of a kind taxi driver, we found our hotel and said goodbye to Gabi and Eric. Thanks!
---
Tags: Japan(9), crepuscular rays(2), waterfall(2), columnar basalt(2), boat(2), bridge(1)
People: Mark(1), Eric(1), Gabi(1)
From: John Harvey Photo > Trips out of the Country > A Second Trip to Japan > Kurokawa Hot Spring and Takachiho Gorge


The Takachiho Gorge

is just beautiful...your photos are very nice.It is a pity you didn't have time to visit the

Amano Iwato-Jinga Shrine

about 8 kilometres out of the town and in particular the

Amano Yasugawara Cave Shrine

which is very interesting....and a beautiful walk beside a river and through forest to get there.

The Kagura Dances were interesting.....but a bit long.Certainly nice to have seen a bit of the history of the area.

This is certainly a "must visit" destination for visitors to Kyushu.


Last Modified Saturday, January 21st, 2023 at 23:40:51 Edit
Copyright and Contact Information.