Sakurajima
It used to be an Island...

---
Prev:
Ibusuki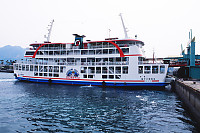 Sakurajima is one of the most active volcanoes in Japan with major eruptions in 1914 and 1947. It still spews ash and often has a steam cloud near the top. We thought it would be a good place to visit. Sakurajima used to be an island but lava flows the 1914 eruption plugged the channel with lava, joining Sakurajima to the mainland of Kyushu. For us coming up from Ibuski, we needed to take the ferry from Kagoshima. The ferry line is one of the most efficient I have ever seen - the ferry ride is only 14 minuets, but the restaurants on board can serve you a bowl of udon and you can eat it in that time. You only pay on one side (which confused us) to further increase the efficiency of labor.
Yunohira Observatory
My ideal observatory would be at the end of the road affording you a lookout over the caldera. This is not that ideal observatory. Wisely, the top 2/3rds of the island is off limits to tourists to try and keep the body count down when this volcano explodes again. From the Observatory, you can see what else was done to keep the body count down - there is a massive scale engineering project to direct future lava flows away from the center of civilization and out into the ocean.

The volcano itself has three peaks - North, Middle and South and wonderfully steep slopes - not a simple cone. They don't let you get anywhere near the action, but it's neat to know how much excitement has been caused by the big pile of warm rock.


Sakurajima is pretty small so we decided to drive around the island to get a sense of what is here. The city area has a large fishing fleet and there are many small farms growing on anything that is close to flat land, but otherwise this is pretty much like any bit of rural Japan.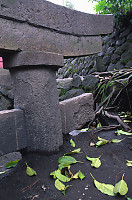 The guide book mentions it, there are road signs everywhere mentioning it, and the first time we drove right past it - the Buried Torii. Once we figured out where it was we were quite disappointed. The Torii (gate) used to be about 3 meters tall but the 1914 eruption buried it and most of the surrounding community in ash and pumice. The community left the torii buried to remind the community of what they had come through.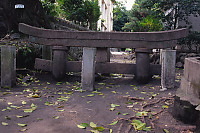 The rest of the island (now peninsula) goes by quickly. The road is narrow and twisty with few good places to pull off. It was getting well past lunch time and we didn't see much that would fit our vegetarian requirements without a lot of hand waving so we found a grocery store in town and purchased premade lunch pieces from the deli area. We went looking for a place to sit and enjoy lunch and stumbled onto a "Dinosaur Park". We thought this would be some cheesy attraction costing way to much, but it turned out to be children's play park on top of a hill with views of the volcano and cherry blossoms to sit under - instant hanami.



After lunch, we went out to play on the equipment (where appropriate). From the number of cool things to play on or around, it's obvious this place really love their children - the have some of the coolest toys ever. The three story high slide was a highlight, but the rope climbing mesh thing was a close second. The dinosaur models (many of which you could go inside or climb on) weren't particularly instructive, but were in good condition.


Furusato Onsen
We saved the real highlight of Sakurajima for the end. Furusato Onsen is combination of shrine and ocean front Onsen. The hotel provides heavy duty (but white!) Yukata and everyone is clothed while bathing. We found that when it came to estimating the size of foreigners, the hotel staff and Onsen staff seem to guess on the large side - bathing in an over sized yukata can be a bit humorous.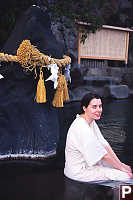 The onsen has several very cool features. The water is fresh (a real onsen will usually have a tasting cup so you can drink the source water) and a good temperature - the area under the tree seemed to be the warmest. And a tree - a first for me. The large tree holds massive (kill you if they fell out) rocks in it's roots and you can bath completely underneath the tree. One of the best experiences I've ever had in an Onsen.


Being robed, it's acceptable to mix genders in the pools. It was great to be able to speak to Gabi while bathing. At first I was a little worried about bringing out my camera (remember, those are white Yukata's), but it seems that many of local tourists and no one seemed to care when I brought mine out.



A unique feature to this bath was the "lie down" area. The pool floor is very abrasive (I can only assume to help prevent people from slipping), but it's only a foot or so down. There is a log to rest your head against and you watch the clouds go by. The view of your own feet is amazing.



The day was getting on and we intended to sleep over in Kumamoto so we really did need to get moving on. It was sad to leave.


---
Tags: Japan(10), hot spring(5), torii(4), panorama(2), volcanism(2), bathing(1)
People: Eric(4), Mark(4), Gabi(3)
From: John Harvey Photo > Trips out of the Country > A Third Trip to Japan > Sakurajima


I am a native Texan, living in Yokohama, and we just came back from a weekend trip to Kagoshima area. Man I loved it sooo!!! The things to do and the people were ooh sooo friendly!!! I just can't stop thinking how different they are to the Tokyoites etc. who aren't as friendly.

Cleo
Tuesday, June 19th, 2007 at 05:51:14

I love the pictures of the volcano


Friday, January 4th, 2008 at 13:23:45

i doing a project on sakua jima beacuse it has my name ini t it help me know so much tank u!!!!!

sakura
Monday, March 10th, 2008 at 21:04:45

I grew up in Kagoshima, Japan. I consider this area to be my home. I had a feeling of familiarity (in japanese that would be natsukashi). There is nowhere on earth like Kagoshima!

Gail
Thursday, August 14th, 2008 at 00:34:36

i am doing reaserch on this volcano i love this volcano cause its very intresting

styles ouellette
Tuesday, December 16th, 2008 at 17:38:03

kewl website really helped my presentation!!!!!!!! :)

shannon
Tuesday, March 31st, 2009 at 11:54:07

this is interesting thx for sharing with me !:D


Tuesday, May 26th, 2009 at 12:11:04

I was born in what used to be Kokubu in the Kyushu and looking at these pictures reminds me so much of my homeland. I actually remember when my parents took me to ride that slide. It was a new attraction then and I remember feeling uncomfortable as the metal cylinders rolled under my feet. :)

rena
Wednesday, August 19th, 2009 at 19:25:26

Thanks for ur info!!!!! This totally helped me out in my research! I'm a Japanese living in Singapore. Once again thanks so much! Arigato Gozaimasu!

Yamashita aiko
Thursday, August 20th, 2009 at 06:05:26

this help me out a lot thanks


Sunday, November 15th, 2009 at 19:31:22

im doing research on this volcano for a science project and im gonna have to try to make a paper machete model of it so this really helps :)

Jason
Thursday, November 19th, 2009 at 18:42:42

its cool and awesome


Monday, December 14th, 2009 at 12:24:14

Needs more info! my Japanese friend says you're not supposed to wear a robe in the hot springs.

Annabeth
Tuesday, April 6th, 2010 at 13:30:05

Your Japanese friend is correct - you don't generally wear a robe in the hot springs.

Furusato Onsen is rare (or even unique) because there is a temple in the hot springs. Because of the temple, you wear robes. Everyone does.

John Harvey
Sunday, May 9th, 2010 at 22:47:49

Sakurajima is one of my favourite places in all Japan, the Furusato Onsen being the highlight of our trip. We hired a Taxi to get there with full intentions of catching the bus back to the Ferry. We got onto the beers and missed the last bus and had to hitch hike after dark. I didn't think that anyone would pick up for drunken "gaijin" but the first car that came along gave us a lift (he was going to the Ferry to pick up his wife). The look on the fellow's wife's face when four inebriated Australians, all but fell out of their car, was priceless!! We also had a great time in Beppu on the NE coast of Kyushu. Great photos,they bought back some fantastic memories. Thanks for sharing!! Cheers Mick

Mick
Sunday, March 13th, 2011 at 17:04:26

John, this is one of the better, more complete reviews I've found on Sakurajima. I've been looking all over the place for some online information on the buried Torii. I've been there and seen it but it's in Kagoshima across the bay. Without saying so your article implies that it's on Sakurajima. One of the things that makes the torii so visually impacting is its distance from Sakurajima. It looks like the same torii in Kagoshima but in case I'm wrong is there also one on Sakurajima? Other than that your article was spot on. I especially like your coverage of Furusato Onsen, I love that place. It was surprising to see pictures; had I known I would have brought my camera down. Robes or not I thought that photography was frowned upon. Nice to know I'm wrong on that as the view especially southward towards Kaimon is awesome.

Cha Wiya
Wednesday, March 16th, 2011 at 11:45:15

John, Guess I have to back down from my previous comment. I was certain I saw the buried torii in downtown Kagoshima. My wife who is from there tells me that I'm an idiot because yes, it is on Sakurajima. My apologies for any confusion.

Cha Wiya
Thursday, March 17th, 2011 at 00:29:17

I am glad that you visited Ibusuki Japan.. I grow up there ... brought back my childhood memories.

yes it is beautiful place and very peaceful place...

thank you for sharing photos

mako
Monday, September 12th, 2011 at 08:54:35


Last Modified Tuesday, June 9th, 2009 at 00:55:36 Edit
Copyright and Contact Information.