Learn To Photograph Trees

I actually have no idea.
---
I like trees. A lot. Some of my favorite objects in the real world are trees. Think I can reliably take a good photograph of a tree? No way.


Why is it hard?

Humans know what trees should look like. They generally have a strong 3D presence but are actually quite similar to each other and parts of themselves. If you take any random snapshot of tree, you generally get something unrecognizable as tree or something that is generic and powerless.


Take this example. There are 4 trees. They are different ages (and so different width trunks). The lighting is good (as good as you generally get in a forest - side lit, orange). Which tree is closest? Do you get a sense of scale? Majesty? These are big trees - do you feel dwarfed?

This fails the self similar problem (big trunks far away look the same as smaller trunks closer up).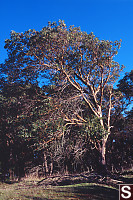 How about this example? Trees are complex with internal shadowing. They are large (mostly bigger than people). At the time, this was a powerful scene, but I have done nothing to convey that to you.

Was there something I could have done to save these shots? Is there some f-stop on a camera that does a fantastic job? Some place to stand? I haven't found it. Below are some of the pictures of trees I have taken that I like. This covers less than 2% of the photographic situations I've been in where I wanted to take a picture of a tree.


Individual Trees
Strategy 1: Separate Tree From Background
It's a rare opportunity, but if you can separate the tree from the other trees you might have an honest chance at getting a good picture. Almost never works in dense west coast forests.

When you see that classic photo of a lone tree on the horizon of rolling fields they are using this technique (and a long lens). It works - it's classic.



Palm trees seem to be a good special case of this rule. Most people know what the top looks like and it separates well from the rest of the tree. Go to the tropics, shoot lots, it's one of the few places that trees are easy to shoot.

Sadly, half measures don't work well here. How about this shot?
These rare oak trees really stand out and this tree was by it's self. There is an interesting foreground element and they sky and near background don't suck. Sadly, the shape of tree is confused with the background and the effect is lost. Try harder.

Strategy 2: Put a Human in there
Just adding a human isn't enough - you need to have a human and some way to separate the tree from everything else. If you are extraordinarily lucky, a tree can be lit (add a human) an voila - a passable picture.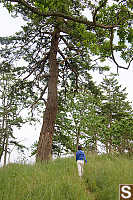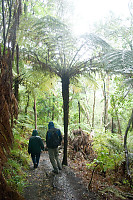 Strategy 3: People know what trees look like. Show them something new
Sometimes just an element of a tree is interesting enough to let the viewer fill in the rest. Trees are supringly hetrogenous - the berries don't look anything like the branches. Some parts of tree are there for show, some parts are just trying to be ignored.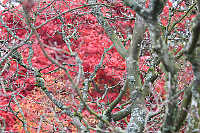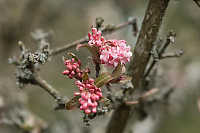 Forests

Even more trouble. That self similar thing makes your life miserable. There are two formulas - either the dappled light clearing or the hazy view.
Strategy 1: The Dappled Light Clearing
The formula is easy to follow: Wide angle (often the wider the better) with a rare clearing in the forest with dappled light falling on the ground. The dappled light allows you to figure out the scale of the forest floor and with that, you get a sense of camera angle and depth. Once your eye understand the perspective, it is willing to construct the trees from what it knows. Missing the clearing or the dappled light? Don't bother taking the photo.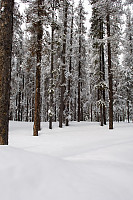 What you are looking for is the ground to provide enough detail for your brain to grab scale, enough differences in lighting for your brain to reconstruct depth and finally enough to make it interesting.
Strategy 2: Atmospheric Depth Queuing
Again, trying to get over the self similar problem. If the atmosphere provide depth queuing (the further back it is, the thicker the fog/haze/smoke) the observer can reconstruct the 3D scene, you have a picture that conveys the space and trees. The problem is getting that depth queuing medium inside of forest. One can't go around setting forests on fire in order to take photos of them.



Got it? Let me know if you find another strategy.

---
Tags: tree(11), forest(5), hiking(3), beach(2), palm(2), Dominican Republic(2)
From: John Harvey Photo > Learn Photography > Learn To Photograph Trees


Hey--found your site weeks ago and bookmarked it, and just had a chance this aft. to look over it. Great photos AND easy-to navigate site design. Thanks for the photo-tips, Dave

great site, few days ago i bought a camera and very confused, now i am very enthusiastic to experiment with the help of tips given in your site.

Prabhakar Rao
Tuesday, February 19th, 2008 at 03:48:01

thank you, i needed to do a report on photography for my photography class im taking in high school and you gave me everything i needed:] and the pictures were gorgeous. i have such an interest in it. its truly a beautiful work of art

Briianna
Monday, March 3rd, 2008 at 18:30:47

Thanks for the forest tips! I'm heading up to the Muir Woods soon, and will definitely apply them...

Gordon

Monday, March 24th, 2008 at 10:19:32

This was incredibly helpful! Thanks so much for sharing your knowledge with photo examples !

Patty
Wednesday, April 2nd, 2008 at 15:28:31

Brilliant tips!

Riya
Monday, May 12th, 2008 at 07:53:02

Realy amazing, can i suggest something.. would you more concentrate on close photography on trees & leafs

shytz
Thursday, June 12th, 2008 at 17:43:31

Thank you for pointing out this web sit.It has given me a better understanding of takeing photoes of tree's.Thank you

K.Butcher
Thursday, July 24th, 2008 at 09:07:44

Great tips. Incredibly easy to understand language. Thanks a bunch, Dave.

Prat

Friday, February 20th, 2009 at 10:40:46

really helpful :) thanks

aneel
Monday, July 13th, 2009 at 05:37:00

Great tips. Thanks! I shoot B&W and color film. The world is a great subject! Thanks for more ideas.

Sazh
Sunday, August 30th, 2009 at 08:59:36

Both composition ideas here are great. It is also worth considering the classic "compressed" tree photos where many trunks placed vertically in the frame create a rhythm. Think Ansel Adams style Aspen photos. Also vertical photos emphasizing the height of the forest with the trunks separated by much negative space is also effective.

Cheers

Absolutely useful tips. Fantastic examples and great pictures. thanks.

jaya
Saturday, July 17th, 2010 at 03:14:29

amazing site...

teja
Saturday, July 17th, 2010 at 11:07:06

thanxx for all the tips...incredible.

dananjee
Friday, July 23rd, 2010 at 08:47:15

I can't believe this! that's fantastic

njonjo
Monday, September 6th, 2010 at 05:12:53

Thanks for the tips. I love to take nature pics and have always been afraid of trees. Now I can take some pics of some trees I've been dying to shoot!!! Thanks again.

dean
Tuesday, January 4th, 2011 at 15:39:30

I have found that the time of day is critical to taking a good tree shot. It depends on the tree which time is best so theres no specific optimal time for it...

noob
Thursday, February 3rd, 2011 at 17:00:31

The last one (forest with smoke) is amazing. peaceful, profound and ascending.

David
Thursday, May 12th, 2011 at 06:54:22

Speechless. Was using part of what is explained and will now go into the depth.

Vineet
Saturday, July 16th, 2011 at 11:34:51

I happen to be looking for photos of trees. when I came across your web site by accident. I love landscapes, particularly forests, trees etc. Your tips are very informative. Thank You.

TONI
Thursday, January 19th, 2012 at 12:44:00

I have to say that your comments and the images that go with them made me chuckled. Thank you. I have been wanting to get a great image of a tree, and to my dismay. THEY ARE NOT EASY to photograph, is like the person that can smile normal or closes their eyes every time they hear the shutter go off. they always ruin the shot for you.

Thanks for sharing and the information!!

Marilyn

Wednesday, October 17th, 2012 at 20:27:25

Very awesome tutorial indeed

Seth
Monday, October 22nd, 2012 at 13:01:43

I just sent an SOS to some photo buddies to help me with photographing an immense sycamore that stands alone in a very large area, with no perspective of the size. My comments were so similar to yours (ie: I can't do it justice, the grandness is lost, etc.). Someone suggested that I google the subject and here you are! I might have to place a human at the base of the tree as a last resort, to show its size. Thanks for the help.

Barbara B.
Tuesday, April 29th, 2014 at 13:17:07


Last Modified Tuesday, June 9th, 2009 at 01:24:26 Edit
Copyright and Contact Information.