January 2013
I swear, I am not a "birder"

---
I was really happy to find the Reifel Bird Sanctuary a few years ago - a nice place to see ducks, Sandhill cranes and other not so common birds. I've heard a lot about Boundary bay, but I haven't had much luck actually seeing birds there it always seemed so far away. I finally found a "reliable" place - the parking lot at the end of 72 street. I've been twice in the last few weeks and see a few birds. My first trip out was just after new years - I was still ill but Nara was feeling better. It turned out to be quite foggy and cold so you couldn't see very far, but even with a short view distance, there was still a few raptors to see. I had a two year old on my shoulders so I didn't take very many photos.


A few weeks later, in better weather we went out for another walk. I've seen lots of large lenses before (here is a photo from Hong Kong), but I rarely see them in Vancouver. Turns out there are lots of big lenses in Vancouver, and they are all at Boundary Bay. From the parking lot to the start of the walk I saw probably six different lenses each worth more than five thousand dollars. I saw one gentlemen with two cameras - one, a 300mm f2.8 is at least three thousand, the other was 500mm+ and probably well over six thousand. I don't have that kind of lens so my photos are small. I also have a child with me so I can't wait to see a key action moment.


I am not a birder. That said, I did see what I would normally call a "little brown jobby" that I didn't recognize. This little guy was in the water just at the foot of the dike - just a few feet away. It was bird I'd never seen before.



Vancouver Aquarium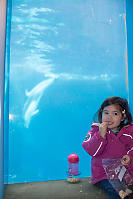 About a year ago I took Nara to the Aquarium to see what we could see. I got a lot of surprises - while Nara loves her Baby Beluga book, she very quickly got bored looking at the real beluga and dolphins. My theory at the time is that she couldn't evaluate the relative rareness of things - fish in tank were just as rare as Beluga's in tank.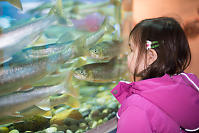 One year later, principal still hold? Yup. She really liked the frogs, fish and monkeys. Dolphins weren't even worth watching while she ate crackers. The beluga's didn't have a baby (the song is Baby Beluga) so she quickly lost interest. Sharks and a sea turtle got 30 seconds of attention. The sleeping sea otters - those she liked.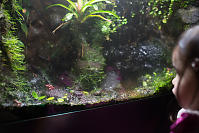 Nara had a great time at the Aquarium. Going early helps (the crowds were thinner at the start). Probably her favorite overall was the large pacific tank (what was once the beluga tank).
Claira Eating Solids

Claira is somewhere past 6 months so we decided to start feeding her solids - or at least baby cereal with milk. So far (now in February) she isn't too keen on eating - we only get a spoonful or two into her before she shuts her mouth and doesn't want to open it. She loves drinking water from a cup - she will gladly open for that, but food on a spoon is mostly food on the face.
Granville Island
We are lucky to live close enough to walk down to Granville Island. Nara really likes to see the birds at the pond so every time we go down we at least stop by to see the birds, even if we don't feed them. The birds of course are spoiled for food - it seems there is a continuous flow of kids trying to throw food at the birds. I don't understand why this isn't a thousand birds in this tiny pond.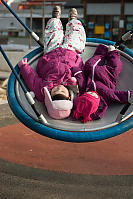 Claira can't really sit up on her own, but she does enjoy interacting. We went over to the playground and it turns out there is enough space on the disk swing for both kids lying down.
Swimming!
We have taken Nara swimming since she was about 9 months old. The lessons are "Parent and Child" so I don't often get a chance to take photos. My Dad happened to be in town so he brought my camera over and kindly took photos of Nara and I swimming.


Nara quite really enjoys various types of boat rides.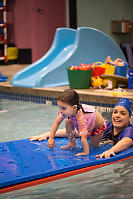 The class usually ends with a trip down the slide. Nara is quite good at "monkey climbing" - holding onto the side of the pool and moving herself along toward the slide.



Thanks Dad for the photos!

---
Tags: Boundary Bay(7), bird(5), Vancouver Aquarium(5), swimming(3), playground(2), swing(2)
People: Nara(8), Claira(3), John(2)
From: John Harvey Photo > Blogs for 2020 to 2005 > January 2013

Last Modified Wednesday, February 6th, 2013 at 21:40:04 Edit
Copyright and Contact Information.