January 2020

Cold and Wet Month

---
Skating At Robson Square Skating Rink
New Years Day was a bit boring so the kids decided they wanted to go skating. I figured Robson Square Skating rink was either going to be empty or the busiest places in Downtown. Turns out it was the latter - the wait to rent skates was about 20 minutes. We got the skates on just before the Zamboni came out.


Yes, the rink was crowded, but not as bad as you might think. Everyone goes in the same direction and slower people are generally on the edges so you could pick a track that was reasonable. Claira is getting pretty confident skating so she doesn't need a box.


We skated for about 45 minutes (until the Zamboni came out again) and then it was time to go home and get dinner!

Skiing at Grouse Mountain
Grouse has a nice package for learning skiers - four days of drop off at 8am, pick up at 11am and you keep the rentals for the whole time. Parents can pick up the kids at the top of the mountain so you can make it a full day if you want.



Last year, the kids were keen on the harder terrain, but this year they wanted to do the cut the and the Side Cut so they could work on their parallel turns.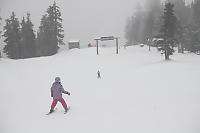 Their second day was canceled (book again later) because of high wind. The third day the kids had Chinese class in the afternoon so we couldn't stay late. The fourth day was terrible conditions (only one lift was open, sharp hail and strong wind) so we only got one more run in. We'll get that makeup day booked soon!

Snow Day!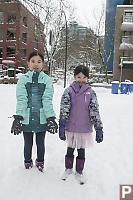 Vancouver doesn't normally get a lot of snow so our infrastructure isn't really setup to handle a big snowfall event. It doesn't take much before the roads become clogged with cars without snow tires and the sky trains lose connections to the power rails and stop running. The Vancouver School Board apparently seriously considers any closure but on this day, they decided closure was the right call. School might be closed, but Helen and I both have to work. It makes more sense (but just barely) for the kids to come to my work than to go hang out in the hospital. We live at the bottom of a hill that the buses can't get up when it's covered in snow so going to work means walking.


Vancouver doesn't have a lot of snow plows, but amazingly, they do seem to have one that clears the side walks on bridges. One slushy days, the bridges are terrible because the cars splash you as they drive by but today the snow was cold enough that it stayed down when the cars drove by. We were far from alone walking over the bridge.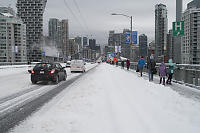 We have lots of choices of how to walk through downtown. I can only walk on Granville Street for so long so we took some of the quieter streets on the way to work. The Law Courts were particularly funny because they were so empty.



The kids had a great day at work. We have a snack wall that the kids thought was amazing. Mom packed them lunches (Macaroni and Cheese) and they got some veggies from the snack wall. We left work around 4:30 and took a bus home.

East Van Science and Maker Jamboree
Wet winter days can be a bit hard to fill. There are the usual indoor suspects - the Blodel Conservatory, Science world or the Vancouver Aquarium, but each of these have admission fees and sometimes parking challenges. If you do some digging, it's amazing what is else is available. I stumbled onto the East Van Science and Maker Jamboree running in one of the Gym's at the Britannia Community Center. There were a number of presenters - Vancouver Hack Space had a bunch of tables. Science World had a demo area and chairs setup at one end. The port of Vancouver was showing how hard it is separate plastics from soil. Metro Vancouver had a demo table for bio-solid applications. SFU Forensic Studies had an art station where kids could use House Fly Larvae to make very cool art cards. The kids don't have a lot of values around maggots so they were fine with picking the up with tweezers and covering them in paint and they really liked the results!
A second big attraction for the kids was the Vancouver Hack Space flashing LED soldering project. It was a small kit where the kids solder components to the printer circuit board and make themselves a button with flashing LED's on it. This is my kids first experience with a soldering iron but they really seemed to enjoy the experience.


The process is pretty reasonable. First they match the components (everything is in pairs - 4 resistors, 2 capacitors, 2 LED's, 2 transistors) to the board and then push the wires through. They then spread the wires a bit so the components don't fall out. Then they solder the components in place and use a cutter to remove the extra wire. Repeat a few times and all the components are mounted.


And just like that, the kids had working buttons! The person guiding the project did help debug it a bit (a few weak solder joints needed touching up), but the kids mostly built it themselves!

Chinatown Parade
We have been going to the Chinatown parade for years -
2019
,
2018
,
2017
,
2015
,
2006
. At this point we have procedure down - where to park (2 hour parking near science world), when to arrive (about an hour before the parade starts) and where to sit (first block or two if you want the most red packets).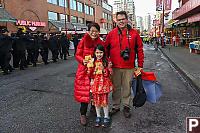 This year, Claira wanted to be in the parade. I don't know what put that in her head, but that was her goal. Nara wasn't at all interested in giving out red packets but she did want to watch. The kids are in Chinese class at the Chinese Cultural Center so she could have gone with them, but we got a better offer! Claira's uncle works in the political circles and was able to get Claira a spot on a MLA team giving out red packets! What a day!

This year the Novel Coronavirus is things challenging in China. While the parade was still on, attendance was down. The blocks above Main street were nearly empty - meters of curb had no one sitting on them. The Chinese Cultural Center decided to no go in the parade. I can understand the sensitivity - even though only 2 people in Canada had the virus at the time, people want to be cautious.

While we were walking, Nara was in her seat taking videos using he camera she got for Christmas. Nara took a lot of video so I made a little 30 second best of video using her material.



After Claira was done hading out red packets, we walked back to the start area and met up with the family. We still caught about 1/3rd of parade and Claira did get some red packets.



It was a great day for everyone. Thanks!

---
Tags: snow(5), Vancouver(5), Robson Square Skating Rink(4), Grouse Mountain(3), skiing(3), skating(3)
People: Claira(16), Nara(11), Janet(2), Lloyd(2), John(1)
From: John Harvey Photo > Blogs for 2022 to 2005 > January 2020

Last Modified Sunday, January 29th, 2023 at 21:02:59 Edit
Copyright and Contact Information.