January 2023

Take advantage of those sunny days!

---
Walk on the Seawall
The winter is often dark and rainy in Vancouver. We had a Sunday afternoon with a bit less rain than normal and no one in my family wanted to go out for a walk. I drove down to Stanley Park and started walking near Saiwash Rock.



In the winter we can sometimes get huge flocks of sea birds around Stanley Park. This is far south as these animals migrate in the winter and they will fly North in early spring.



It wasn't long before it started raining again and I packed up my camera.


Chinese New Years at UBC Botanical Garden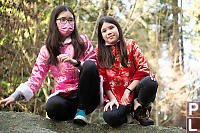 Chinese New years can span a few weeks in Vancouver. This year, Chinese New Years happens to land on Sunday January 22nd, but the UBC Botanical Garden had it's new years activities the weekend before. There was some confusion about ticketing (they were free, but limited) but we eventually got into the garden and went for a walk.

The kids have traditional Chinese New Years jackets hanging in the closet which they are slowly outgrowing. Today those jackets got put to use so the kids treated this visit as their chance to be models.


The UBC Botanical Garden isn't a "bed of flowers" kind of garden. They have a trees and plants representative of different parts of the world (especially Asia) and some interesting collections of vines. While some of these include flowering plans such as Rhododendrons, being the middle of winter, there isn't much for flowers, but the light was really quite nice.
Chinese New Years Parade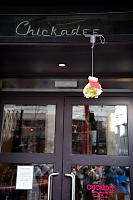 We have been to a lot of Chinese New Years parades so we have some ideas where to sit to see get a good view of everyone. (Hint - arrive an hour early and the politicians mostly only stay for a few blocks). This year, the kids had swimming class in the morning so we arrive after the parade started and the kids had to struggle to find a place to see the parade.

The Dancing Lions and Dragons get all of the attention, but there is quite a bit more to parade beyond them.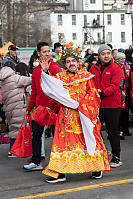 One of my favorite parts is the God of Wealth character. Some years there are more than one of these guys, but he is definitely a crowd favorite.



Of course the lions are one of the stars of the show. Most of the Lions have similar style heads, but often with wildly different colours. There are perhaps half a dozen benevolent societies in chinatown. New for this year was a person in a lion costume - lots of points for innovating.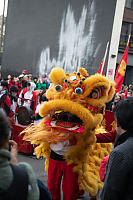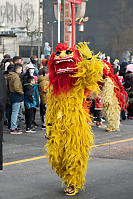 If the lions are the prince of the parade, the dragon teams are the kings. The dragons have a team of supporters - some are slower, some are extremely energetic.

Granville Island Lanterns
For the last few years, Granville Island has hosted a small lantern display. Since Granville Island is so close (and easy to park at night), we decided to drop by.



We were the only people there, but the kids had a good time looking at the Lanterns. Thanks Granville Island!


---
Tags: UBC Botanical Garden(6), Tang jacket(4), Vancouver Chinatown(4), dragon(3), parade(3), Granville Island(2)
People: Claira(7), Nara(6), Janet(2), Helen(2), John(1)
From: John Harvey Photo > Blogs for 2022 to 2005 > January 2023

Last Modified Sunday, May 21st, 2023 at 23:21:12 Edit
Copyright and Contact Information.