February 2012
Illuminate Yaletown & A Birthday

---
Illuminate Yaletown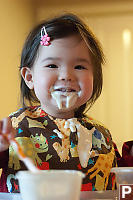 February isn't exactly the warmest or driest month in Vancouver so getting outside is always a bit of a challenge. Yaletown is trying to create a bit of a destination mini-festival in "Illuminate Yaletown" and it didn't take much of an excuse for us to hop a bus and check it out. (We also went to the
2009 Illuminate Yaletown
).

The festival closes off a few blocks of Yaletown and sets up a number of different instillation. Some are shows with performers, some are interactive displays, some are basically advertising for the restaurants.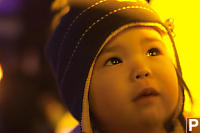 Far and away the most popular were the fire dancers. The crowd was at least four people deep and getting just a glimpse was a bit of trick. Turns out there was a trick - one of the local cafes had a good side view if you purchased food or drink. Some snacks and an awesome view - what's not to like?
James Turns One!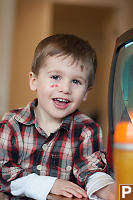 My sister throws some pretty good birthday parties so we try hard not to miss them. She invites some of the kids from her prenatal group so there are lots of kids all the same age ready to play together.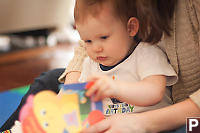 Of course this day is really about James. James is into everything - half crawling, half gliding. Everything goes into his mouth for a good suck. There was lots of exciting things go on on his birthday, but I think the wrapping paper was his favorite. Some of the toys he got were for a little older kid (he'll grow into them) so all the other kids were interested in what new toys James got.


As with any children activity, it's not long before it's nap time. Thanks for the party!

---
Tags: long exposure(2), fire(2), performance(2), Yaletown(1), Ice Sculpture(1), ice(1)
People: Nara(7), James(5), Marcus(2), Helen(1)
From: John Harvey Photo > Blogs for 2020 to 2005 > February 2012

Last Modified Monday, April 9th, 2012 at 20:12:44 Edit
Copyright and Contact Information.