March 2006
Go Visit some Family

---
Seal Bay
The original plan after getting on the 8:30 ferry and lunch at the grandparents was to go up to Mt Washington and enjoy an afternoon of cross country skiing. We drove up and it turns out the rentals close at 3:15. It's sunny until 6pm (we usually go to Cypress which has night skiing and is open to 10pm), but you have to have your rented ski's in by 3:15. We were bummed out - beautiful views, beautiful sun - no skiing.

Time for plan B. We decided to go visit Seal Bay. This is a city park with a bit of a walk and some beach (although very stoney). Apparently it is named because seals would haul out here but given how many dogs use the area, I would be very surprised is seals come to shore.

I was surprised though. When we got down to the beach we saw something moving on a rock in the water. Turns out it was a river otter eating a ground fish!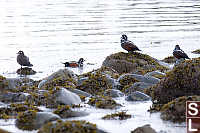 We did a bit more walking around, but soon enough it was time to go.

Grandma's Birthday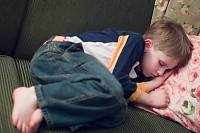 Jennifer and David were kind enough to host dinner at their house. We crammed their house and had a great dinner.
The next morning we went to the Kingfisher for "Brunch". We have been to this resort before (both for food and to stay over) and every year it seems to be just a bit bigger, a bit more up scale and just a bit harder to get reservations.



More Photos and we were off again to Vancouver.


---
Tags: BC fauna(4), fern(1), forest(1)
People: Edna(2), Justin(1), Helen(1), John(1), Kayla(1), Philip(1)
From: John Harvey Photo > Blogs for 2020 to 2005 > March 2006

Last Modified Saturday, August 8th, 2009 at 22:18:44 Edit
Copyright and Contact Information.