April 2012

Spring is here - Time to Play!

---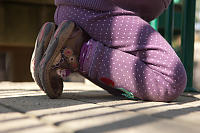 The days are definitely getting longer and the weather is much nicer - not exactly warm, but a lot nicer than the cold short days of February. We live close to two good playgrounds so there is not shortage of things to do on a weekend. Nara is really growing into the near by climbing frame - she can now climb up the net (with some help and a good spotter) and she is comfortable going down the spiral slide all by herself.

Easter at Grandma's House
Grandma kindly offered to host Easter this year. There are a lot of great things to do at the grandparents house starting with a walk over to the local playground. The playground is a two stage playground - toys appropriate for really young children as well as toys with more challenge for older kids. Swings are always a favorite.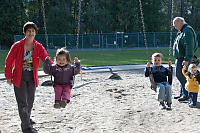 Marcus is a bit of a funny duck - some days he really doesn't like to have his photo taken, other days he asks for it. Today he was having a great time running around and actually asked (or challenged) me to take his photo. It's lots of fun chasing kids around a playground - focus is sometimes a challenge but the results can really pay off.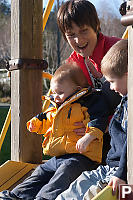 James turned one two months ago and he is trying really hard to keep up with the other kids. The more junior area had a good slide for him and he seemed to quite enjoy the trip down. Getting two brothers down at the same time turned out to be nearly impossible.



Nara likes the swings. Slides are nice and running around is good too, but she really enjoys swings. She will often finish on one swing and ask to move to the swing adjacent - got to try them all!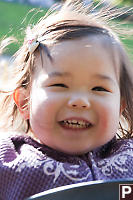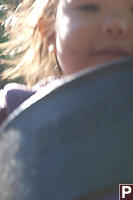 After a hard run around the playground it's time for snacks. Nara knows her cousins well enough that she seems comfortable being fed. I'm not sure how James feels about this.

Cordova Bay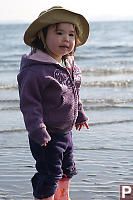 Timing the tides with kids activity time is always tricky but this Sunday we lucked out. Cordova bay has a large sandy beach that gets much larger with the falling tide. We went out for a run around.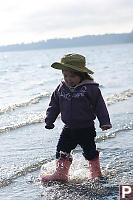 Nara really enjoyed walking in the waves with her boots. Parenting tip - make sure you are comfortable going into the water at least as deep as your children are. Nara had good boots on but I only had runners on. When she was ankle deep in the water she was out of reach from me unless I was willing to get wet shoes. I know for next time.


Backyard Fun!
There are a lot of kid friendly attractions in Victoria (Beacon Hill Park comes to mind). Sometimes the best attraction is the place that doesn't require a drive at all. Just open the back door and let the kids play!



When your kid goes to day care you never really know what skills she has picked up. I know the day care has lots of ride on toys (she seems to have that down) but pedal toys are new to her. Marcus has a year on Nara and definitely knows a thing or two more about making the toys go. Thankfully he was patient.


Tulip Town
Helen is quite pregnant and we are running out of time to leave the country before her insurance no longer covers her in the US. We are staying with friends in Seattle and doing lots of shopping at the discount stores. Besides the great food in Seattle, there are some fantastic consignment stores for kids stuff. But I am getting ahead of myself - on the drive down we stopped in at Tulip Town to see the farm:


We did the
tulip tour before in 2006
and it makes for quite a nice day. When you are driving down to Seattle from Vancouver with a little girl in the car seat it makes for a good way to break up an otherwise long drive. Seeing Nara in the tulips was actually quite a surprise - she is roughly eye level with the flowers. You don't often think of these things with kids - their perspective is quite different from ours.

The farm is a working farm (I really wonder how much money they make on tourists versus selling bulbs) so there are lots of good photo oporunities. Of course having a wet (fell in a puddle) kid running around, you don't spend a lot of time exploring for good photos. Maybe in a few more years Nara will have her own camera.


---
Tags: playground(5), slide(2), McMinn Park(2), swing(2), Cordova Bay(2), beach(2)
People: Nara(13), Marcus(7), James(3), Helen(1)
From: John Harvey Photo > Blogs for 2022 to 2005 > April 2012

Last Modified Saturday, January 28th, 2023 at 22:52:57 Edit
Copyright and Contact Information.