July 2006
I spend a lot of time outside

---
Reifel Bird Sanctuary


In April
, Eric, Mike and myself went to the Reifel Bird Sanctuary for a nice morning walk. I was very impressed with the bird count so the sanctuary got added to my "regular places" to go visit. I'm leaving on a kayaking trip in a week and I wanted to remember how bad my Tamron 200-400 lens is so I figured the Sanctuary would be a goodplace to remember.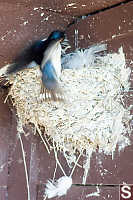 A few things surprised me. First, there are many fewer birds in the Sanctuary in July than April. The duck selection was basically just mallards (ironcially flightless because of their molt), Canada Geese and a two wood ducks. The sparrows were in full force but I didn't see much of the smaller forest birds.


How did the lens do? I was hoping that with the cropping it would suck less, but it was pretty terrible. It's a poor lens even on a tripod, shot off wide open. Oh well - at least my bag will be lighter.




---
Tags: bird(5), Reifel Bird Sanctuary(4), nest(1), baby(1)
People: Helen(1)
From: John Harvey Photo > Blogs for 2020 to 2005 > July 2006

Last Modified Saturday, August 8th, 2009 at 22:18:44 Edit
Copyright and Contact Information.