August 2008
A Happy day for the Joness'
---
August 8th, 2008 is an auspicious date to get married. For Gabi and Eric, it became there special date. The booked a chapel on Vancouver Island and all of us came over to our "home town" for the event!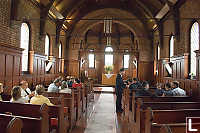 The chapel was built in 1909 and was restored in 2003. It's a beautiful brick building with many original details - a perfect spot for a wedding. During the wedding there was (sensibly) no photography so we intently watched to good friends get married.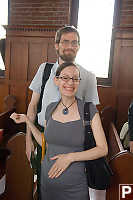 After the wedding we took a few photos of friends.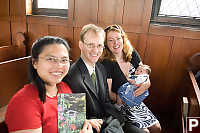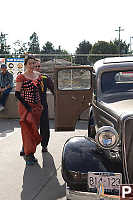 Eric and Gabi left in a 1935 Chevrolet and the rest of us went to the pub to celebrate!


Eric and Gabi organized there reception in a pub out in Sydney. Sydney has a beautiful view of the Gulf Islands and was a great place to watch the sunset. The couple set out bubble wands and plenty of mix so we had a lot of fun blowing bubbles of the top deck.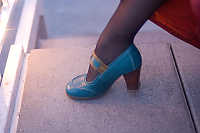 Gabi and Eric setup a number of fun things to do at their reception. They brought costume bits and asked people to take pictures of themselves in costume with messages (as Stephen did below). The brought a "wish tree" where you would leave positive notes for the bridge and groom. The had magnetic poetry to leave messages. They even went so far as to put up little expositions explaining parts of the wedding such as wear Eric's clothes came from (including carbon footprint) and the traditions they were honoring.


The Australia and Canadian theme was carried through several elements of the event. The cake topper was small bottle of Vegemite and a small bottle of Maple Syrup. The RSVP cards requested a sketch of national animals. Even the party favors had themed elements.


At the stag, we
broke out the booze and cigars
. We had a few extras from that event so this was a chance for the women to take up vice. I was surprised how much people were into it.

Thanks again Eric and Gabi - fantastic time!


---
Tags: bubble(2), vista(1), coast(1), sunset(1), art(1), place of worship(1)
People: Gabi(5), Helen(5), Jeremy(4), Andrea(3), David(3), Jin(3)
From: John Harvey Photo > Blogs for 2020 to 2005 > August 2008

Last Modified Saturday, August 8th, 2009 at 22:18:03 Edit
Copyright and Contact Information.