August 2011
A Gazillion Little Trips

---
Alice Lake
Andrea and Chris like to take Chris's son on long drives to help him nap. One of their favourite destinations is Alice Lake, just North of Squamish. We decided to join for a day. It took us about an hour and twenty minutes to drive up (Nara slept for much of it) and then we arrived at the very busy lake. We got Nara in her swim suit and we went for a dip!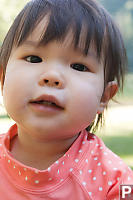 I was really happy to get out there. City parks are great, but real BC Parks with their own mountains are much cooler. We haven't done any camping this year - hopefully that will return next year.


QE Park
Jin and Dominique organized a picnic at QE park and kindly invited us. The kids mostly did the parallel play thing, and Nara really enjoyed pushing around Noelle's baby stroller.


Playground at Kits Highschool
On Sundays we like to visit the farmer's market at the Kits High School/Community Centre. There is a good little playground as well as a water park.


In recent weeks it's been getting hotter so having a nice place to cool off is good for the kids. Nara has been to Granville Island's water park a lot so she has the hang of water parks now - how not to get too wet, but still have fun.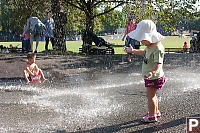 Queen's Park in New West
Being near the end of Summer, my sister and her husband, both school teachers, need to think about getting back to work. We organized a meet up at Queen's Park - it's about half way between our house and my sisters house. It has a large playground, a water park and a petting zoo so there is a ton for kids to do.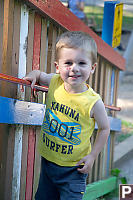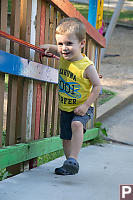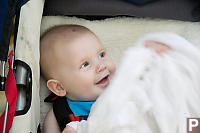 The animals at the petting farm know the drill - yelling children everywhere, some still missing manners. The goats and sheep will put up with some abuse (from an 16 month old), but they know how to get up and leave. As children get older, they behave better so the animals really are on the lookout for the youngest of humans.

It was getting to be quite late in the day (the heat of the sun was gone) so we couldn't let Nara play in the water park too long. That said, she did have a great time with other kids toys.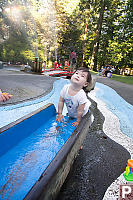 I saw boy who had blue lips and was shaking so bad he was having a hard time picking up things. He was still having fun though and really wanted to stay longer. If only the water was warmer.

---
Tags: water park(5), Queen Elizabeth Park(2), petting zoo(1)
People: Nara(14), Marcus(3), James(1)
From: John Harvey Photo > Blogs for 2020 to 2005 > August 2011

Last Modified Sunday, August 26th, 2012 at 15:10:43 Edit
Copyright and Contact Information.