September 2006
And some clever quip...
---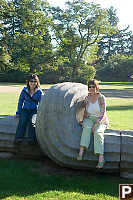 Mom and Dad got back from a long road trip to the Rockies and they stayed over a day before heading home. My mom, Helen and I went for a walk around VanDusen Gardens.


My deck is coming - eventually. At the gardens there are really nice stone planters with small plants and I would like to do something like this with my deck.


It was my Mom's birthday recently so we had a birthday cake. Happy birthday Mom!

---
Tags: VanDusen(6), garden(4), art(1)
People: Janet(2), Helen(1)
From: John Harvey Photo > Blogs for 2020 to 2005 > September 2006

Last Modified Saturday, August 8th, 2009 at 22:18:44 Edit
Copyright and Contact Information.