September 2012
A Month of Weekend Activities

---
Home on Weekend
Kids grow up so quickly, it really is important to try to take photos of them on a regular basis. My goal is to take at least one good photo of my children each month because there is no rewind button to go back to an earlier stage.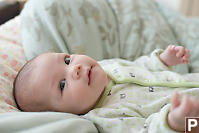 When I was growing up, I remember an enlargement hung on the wall in my play room of my sister and I. We were toddlers - my sister was probably under one and I was somewhere past two and that photo has stuck with me through my whole life. I hope I can take a similarly iconic image for my children.


Picnic at QE Park
There is a lovely grove of cherry trees at QE park and we often go in the spring for a Hanami. Jin organized a picnic and a surprisingly large number of my friends and their kids were available.



Taking photos of kids is much easier than taking photos of adults. Generally adults like to pose - to ensure their best side is shown. Kids generally don't care, but even when they do pose, it's often interesting.


I caught a bunch of photos of dads and their children.


At this age, even a year age difference can be a barrier to play. I think Nara had a tough time keeping up with Haley and Noel, but couldn't really do anything with Abby. Maybe in another year it will be easier for them to play together.

Crescent Beach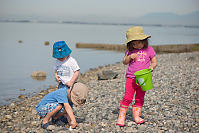 My sister lives near Crescent Beach (not that near!) in White Rock. Compared to Vancouver beaches, there is lots of parking available and the beach is far from crowded. One morning I drove out with Nara so Helen could get a bit of a morning sleep in.


Throwing rocks in the ocean is fun. Where we were there wasn't a lot of sand so the bucket and scoops had a hard time being useful. After some beach time we found a little cafe and grabbed an early lunch.



Nara had some hard times with sharing, but I think she had a good time. She was asleep within a few blocks of the beach.


Amenda and Balanh get Married!
Helen has known Amenda since high school. When Helen first came to my house (our third date), Amenda was part of the team of chaperones to make sure I behaved myself. Every year since we have traveled down to Seattle to visit Amenda and take advantage of her hospitality.


We aren't the only Vancouver people who know Amenda - Jin has also known Amenda since high school so we were glad to see them there as well. The wedding took place at the Lake Union Crew Boathouse which is right on the water. They have a large wet dock area which has great views of the boats and activity on the water.


With the music playing, Amenda's niece and nephew walked out with rings and flowers. A few moments later the bride made her entrance. There were petals down the aisle and a gate where her fiance was waiting.


In front of friends and family, Amenda and Balanh were married. I think Balanh almost cried a few times - it was quite emotional for everyone.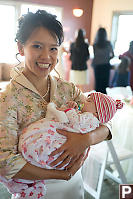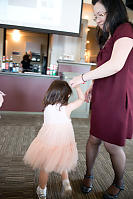 The upstairs of the rowing center has a nice dining area with views of the lake and Seattle. After lunch there was a slideshow of bridge and groom photos (I need to get out more!) and time to talk to people. Nara and Helen took advantage of the music for a little dancing.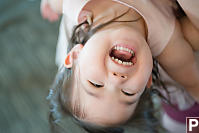 One of my favorite parts of weddings is the cake or in this case cakes. Take cake(s) can say a lot about the couple - traditional white jobby or modern stile. Light and tasty cakes or heavy and small cake. I've never seen the same cake twice at a wedding.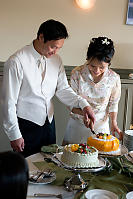 I have decided there is no flattering way to take a photo of someone who is eating cake. Amenda and Balanh make make such a nice couple, they can almost pull it off.


---
Tags: wedding(3), cake(3), bucket(2), beach(2), rock(2), throwing rocks(1)
People: Nara(9), Claira(7), Haley(4), Abby(3), Helen(3), Loren(2)
From: John Harvey Photo > Blogs for 2021 to 2005 > September 2012

Last Modified Wednesday, October 3rd, 2012 at 21:32:07 Edit
Copyright and Contact Information.