October 2006
Getting ready for Sabbatical

---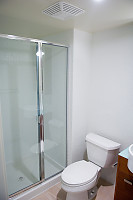 It's month late but
my building
is getting close to done. I had my deficiency walk through. The contractor suggested a right hand rule approach to throughly visit every aspect of the apartment. My right hand rule started in the hallway bathroom. Of course the bathroom doesn't have much of a view.
Next is my kitchen, dinner area and living room. I was somewhat surprised how small the whole area is but I hope that once it is furnished it will seem a bit larger. The fireplace was a surprise - it was an option I didn't want (it's electric) and it will be removed. The view really is fantastic.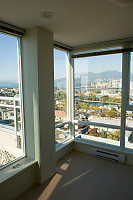 Next is the den. Again, smaller than I was expecting, but the view here (without the deck ahead) is perhaps the best in the whole place.


And finally the master bedroom and ensuite. More things to fix (electrical outlets aren't level for instance).


Moving In

I took possession on the October 20th (my last day before Sabbatical) and had a busy week in front of me. I had already packed most of my stuff into boxes and on move day (Monday) it took 4.5 hours to get all my stuff into a truck, down a block, and into my apartment. Now the real work begins - cleaning the old place and unpacking!



I gave up the old place on the 28th and I'm in completely now. On the 30th (really early on the 31st) I fly out to begin my next adventure...


---
Tags: vista(2), city(2), Vancouver(2), panorama(1), sunset(1)
From: John Harvey Photo > Blogs for 2020 to 2005 > October 2006

Last Modified Saturday, August 8th, 2009 at 22:18:50 Edit
Copyright and Contact Information.