October 2016
Show" align="middle" src="../../BlankSlides.gif" hspace="10" style="border:

And some clever quip...
---
Walk Around Reifel Bird Sanctuary
I have these dreams. My family and I got to Reifel bird sanctuary and join a birding walk. We all learn new things about birds and my good as gold children use their strong spotting skills to point out things other people don't see. We walk most of the trails in the park and we end the day warm and happy.

Reality couldn't be any more different. My kids only tolerate Reifel Bird Sanctuary because they can feed the ducks. I don't dare join a walk because my kids are loud and I don't know enough to justify my camera gear and lack of binoculars. We always walk the same short loop because I know it's the maximum distance Claira can walk before she has to be carried. I keep hoping that each passing season will see more endurance and interest from the kids, but it's likely their interest will further evaporate, not grow so I take what I can get.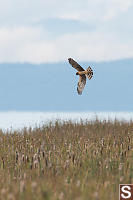 Reifel has a great mix of resident birds and migratory surprises. You will always be able to see very tame mallards and wood ducks, but the predators and visitor create anticipation into each new trail walked. This time we were rewarded with some wading birds that aren't long term residences of Vancouver - Greater Yellowlegs.

In the end, the kids did have a good time, especially the picnic lunch at the end. I got to see some birds and added a new species to my life list. We stopped in at the farms on the way home. Everyone was a least a little pleased with the day.


Nara in Cross Country
For reasons I don't understand, I don't like running and Nara seems to really like it. Last year in the spring kids were doing laps of the school (Kilometer Club) when we walked to school and she wanted to be part of it. In the fall, we kept a look out for Cross Country and signer her up. I volunteered to take photos because that I something I can do.


The practices are three days a week - Monday, Wednesday, Friday from 8am to 8:45am. The kids arrive, run, stretch, and then generally do an activity like a relay race or a chase/passing exercise. This is a pretty big group - most mornings have 50 kids, the first few had almost 100.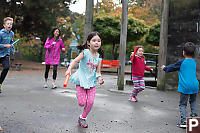 This fall there are three "local" meets (races) and a district meet. Helen and I split the meets - she got two and I got two. My first meet was at Jericho park. There were maybe 50 girls in the Kindergarten/Grade 1 group.




Lots of practices.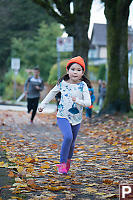 The final meet of the season was at Trout Lake (John Hendry Park). The starting line up for girls kindergarten/grade 1 was about 140 kids. Some starting lines that day had nearly 300 kids. In her race, Nara placed about 42 which is in the upper third of the kids that ran.



This many photos of Nara throws off the Nara/Claira balance. I'm going to have to figure out something to do with Claira that is similarly photo worthy.


Iona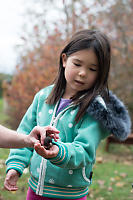 Iona Beach Regional Park is really known for birding during the spring and fall migrations and for the birds in the summer. Winter is the usual local suspects and the occasional lost bird. I had some time on a Sunday morning so Nara and I went out for a walk. The people from WildResearch had their mist nets out and Nara was curious about the bird banding. After the band was read (this was a Dark-eyed Junco), the volunteer let Nara release the bird from her hand. Nara through that was pretty cool.
Halloween Howl
Nara's school does a Halloween fundraising event every year. They decorate the school and run events in the classrooms and gym. The money raised to use to help offset the costs of sending the grad class to Quebec for a language exchange. It's nice to see the other kids out in costumes and support the school even if it is quite small amounts of money.
Claira wore her mermaid costume for about 5 minutes until she decided she didn't like how the "bra" seashell pattern on her chest looked. The she wanted something else. We have fairy stuff around the house (girls) so she went as a ferry and Nara pillaged some of her accessories (kelp scarf and a sea star hair piece).


Seawall Strider Bike, Scooter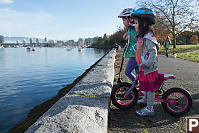 Nara likes to bike. Claira is having a hard time with the transition to pedals but she loves her strider bike. Nara decided her scooter (kick bike) is an acceptable alternative to riding even if Claira can go faster than her. Dad runs behind. The seawall is starting to get less crowded (more locals only this time of the year) and the slower speeds of non-pedal vehicles means we can ride the seawall without running people over.

To keep it interesting, we do a one way trip from Granville Island to the Cambie Street bridge. There is enough time for Mom to do some shopping (she picked up Dim Sum for lunch today) and I get a bit of exercise so it's a win for everyone!


Halloween Trick or Treating
Halloween fell on a Monday this year and I wasn't feeling well on the weekend so I didn't go to any of the adult parties. On Monday night we left a little late but still got very full baskets of candy.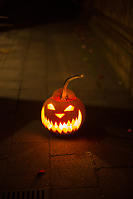 I'll admit, we trick or treat out of neighborhood. We got to a bunch of houses near city hall where there are lots of kids and lots of decorated houses.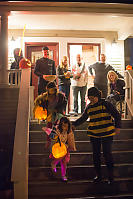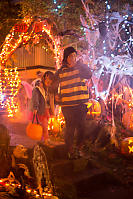 When we got home around 8pm (we stopped and watched some fireworks in the park), we ran into an older girl and her dad coming back from their walk. They started at 6pm around Alma - target dense area they said. She had a pillowcase for candy and it put our kids (who being young I think get a better hand out than some) to shame. Thankfully, our kids haven't figured out how to compare how much candy was brought home.



---
Tags: running(10), Halloween(8), Reifel Bird Sanctuary(7), cross country(5), costume(5), seawall(2)
People: Nara(14), Claira(4)
From: John Harvey Photo > Blogs for 2023 to 2005 > October 2016

Last Modified Saturday, January 21st, 2023 at 23:57:46 Edit
Copyright and Contact Information.