November 2022

The Big Art Crawl

---
Victoria for Weekend
We went over to Victoria for November 11th long weekend. Helen's birthday is in early November and kids like to visit the Grandparents.

I'm always looking for a new place to go for a walk around Victoria. I didn't have a lot of experience in Esquimalt so a quick google maps showed a few parks that can be strung together as a walk - park near Banfield Park, walk the sea wall to Selkirk Trestle and then walk along the waterfront on the far side of the bay.



This is my first time on this Trestle which is part of the Galloping Goose trail. We waked up the Galloping goose trail and found the underside of the Gorge Road bridge was painted with a massive mural.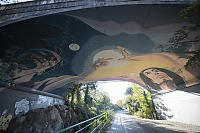 We did visit the docks before we turned around and walked back to the car.


East Side Art Crawl
One of my favorite weekends of the year is the East Side Art Crawl. Starting Thursday night, you can visit artists studio, talk to artists and generally get inspired by the amazing things going on Vancouver. This year I changed up strategies - I took Nara on Afternoon to 1000 Parker Street and separately I took Claira to a few studios around Commercial Drive.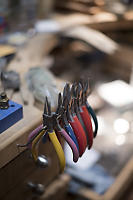 My first building was the Arc Studios on Powell Street. This building is mostly housing (there is a gallery and a few functional spaces in the basement) and each floor (7 in total) has a handful of open spaces. The houses go from "work-life" and "things moved aside for the show" to "how can you also live in this space?". It's a personal favorite building of mine.

The next morning, I took Nara to her swim class at Britannia and Claira and I visited a few of the artists close to her class. First visit for me, we visited the Vancouver Hack Space. They are a not for profit workspace where people share tools to make things. The space has a wood shop, a metal shop a paint shop and many modern tools like 3D printers and laser cutters. One of the members showed how to use the Laser cutter and cut a Pomeranian design out of scrap plywood on the 3D printer.




After swimming, I took Nara out to 1000 Parker Street. This is an old furniture factory that has been converted into artist spaces. The bottom floor has larger spaces used for heavier work like wood working and higher floors are usually painting other media work. It was of course busy but there is so much amazing work in such a small place. They get so much foot traffic that some artists let out all or part of their studio to other artists so they can get more exposure.



Another favorite for me is MakerLabs on Cordova Street. This year only a small fraction of the space was showing, but the people that were there were generous with their time.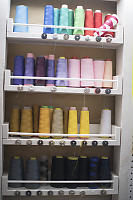 This is two story building but the bottom floor is quite high so some people have found ways to "stack" their space. One particularly nice solution was stairway that folded flat against a wall. Once you go to the top of the stairway there was drawbridge to a neighboring unit to spread the stacking love.



There are many other small studios worth a visit. I have been a big fan or Arnt Arntzen and Paneficio Studios for years. I really like the artists under the Sun Wah Centre. I visited a new to me studio on Hastings street with textiles, ceramics and painting all under one roof.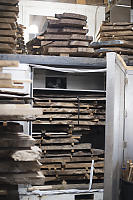 Sometimes you learn to appreciate a place in a new way. I visited Chapel Arts in past - they make fantastic tables out of slabs. This time they had their workshop open and I was shocked by the immense scale of the equipment they had at their disposal. They own a Wood Kiln (who owns a Wood Kiln in the city?) and a giant band saw. The shop was full of wood for future projects.


---
Tags: art crawl(7), Eastside Culture Crawl(7), textiles(2), tool(2), twin(2), pottery(1)
From: John Harvey Photo > Blogs for 2022 to 2005 > November 2022

Last Modified Sunday, January 22nd, 2023 at 00:14:28 Edit
Copyright and Contact Information.