December 2005

I really shouldn't work so much

---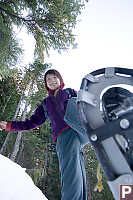 Really - this all started as my girl friend's idea. Helen is cross county skiing a few times a week so she wasn't so keen on adding another day just after a day of lessons. I just wanted to get outside (it's crazy time at work - 6 days a week of >12 hours). I own snow shoes, Helen rented ($20 for snowshoes that probably cost less than $100 - Cypress must be making a killing) and we went for a short hike on the Howe Sound Crest Trail.


The views (girlfriend and nature) really are terrific. Much of this area has been logged so there are a few good view windows along the way.



The snow was surprising - There was about 1meter of snow on the ground at the alpine area and some areas of hiking had what appeared to be a meter of snow. Other areas (in the lee of the hill, in trees was exposed earth with ice covering patches. Some sections were easier covered in just winter boots rather than snow shoes.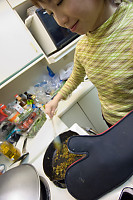 We had a short day (perhaps 6 or 7 km of hiking). We came home and Helen made dinner. How cool is that.

Seattle For New Years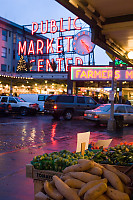 Christmas is always a crazy time and this year was no exception - a trip to Victoria and up Island and then after return to Vancouver, a quick trip down to Seattle for shopping, New Years and more shopping.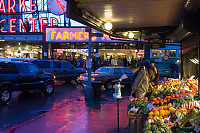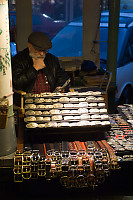 I love Seattle because it is so much a Twin to Vancouver - We have a great Market (Granville Island) they have a great Market (Pike Place). We have water - they have water. We have a Volcano looking over us (Mt Baker) they have a Volcano (Mt Raineer). We have MEC, they have REI. I can't imagine any other pair of cities paired over a border with so many similarities.
The last time I was at the market
it was summer and full of tourists. This time it was winter (the light was so different) and much of the public space was unused. The selection of fruit this time was limited to imports - very little seemed local.

New Years was lots of fun. We had a great hot pot (thank to everyone who helped put it on) for dinner and played Taboo on the couch.


---
Tags: market(6), Seattle(5), produce(3), snow(2), mountain(2), neon(2)
People: Helen(3)
From: John Harvey Photo > Blogs for 2020 to 2005 > December 2005

Last Modified Saturday, August 8th, 2009 at 22:16:41 Edit
Copyright and Contact Information.