A Weekend in Seattle

Andrea's Godmother invited us down for Thanksgiving weekend.
---
Peace Arch Border Crossing
Like all great trips, this one began with a line up. The September 11th attacks had changed the border from being a minor inconvenience to a two hour wait. We arrived early, allowed plenty of time and patiently waited. The peace arch crossing has a nice grassy park around the arch so both Andrea and I got out from time to time to stretch our legs.
We crossed the border at noon and drove south to Seattle, stopping briefly in Bellisfair to pick up batteries and lunch. We arrived in Seattle around 3pm (or whatever time that would be if we were doing the speed limit).
Pike Place Market

Much to Wendy and my surprise, Andrea had never been to Pike Place Market. Wendy lives pretty close and we needed pick up some mushrooms for dinner so we decided to head down.
The Market is always fun to visit. Being fall the produce looked pretty good and there were a few things I was surprised to see. The first was the Dougnut peaches. They look flatter than the average peach, but they are otherwise normal. They had Peanuts with the stems still on them - something I never seen before. And it was pepper season.
Outside on the street the vendors had set up racks hanging strings of peppers and wreaths of peppers. Some stores had walls of peppers hanging in the front. A very colorful sight!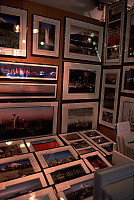 The Market also sells non food items. One of my favorite booths was the place selling photographs. I've seen this booth in previous trips to the Market, and the photo collection is truly impressive.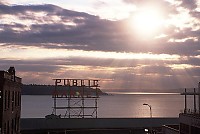 Magnolia Boulevard

Driving back from the market, Wendy decided to drive up and along Magnolia Boulevard. This old neighborhood has some pretty amazing views and we happened to be there at sunset. A nice view!
Hiram M. Chittenden Locks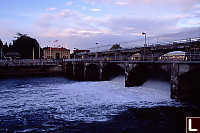 We spent most of Sunday shopping (
Elliott Bay Bookstore
,
REI
) but near the end of the day we stopped in at the
locks
. The locks hold back the freshwater from lake Washington and lake Union. There are two locks - a large one to hold barges and large vessels and a smaller lock for pleasure boats. Being Sunday evening there were lots of small boats coming and going - and a few excited crew members trying to figure out the proper way to tie off.
Thanks Wendy for a great weekend!
---
Tags: Seattle(12), market(10), produce(7), field(2), parking(2), flag(2)
People: Andrea(1)
From: John Harvey Photo > Trips out of the Country > A Weekend in Seattle
From: John Harvey Photo > A Weekend in Seattle

Last Modified Saturday, January 21st, 2023 at 23:37:35 Edit
Copyright and Contact Information.