Lindeman Lake
Early in the Season Hiking

---
It is nice to have another hiking keener in the group. Jin had a group from work interested in going to Lindeman lake and had a few extra spots in the car for other people. Turns out none of the work people came, but we certainly had a good time.



The hikes starts with a depressingly long car ride - you drive out to Chilliwack and then about 40km further down Chilliwack Road (the same road that gets you to the fantastic
Mt Cheam
hike). The hike starts next to a stream and fairly level, but it quickly picks up steam as you head up into the mountain. The total hike is only 4.5km (lake return) but it is scheduled for 2 hours - a testament either to the grade or the view at the lake.
On the hike up you pass through a few bits of super dense (no under story) forest. I don't know my logging well, but I believe this is what a forest that wasn't replanted looks like - too many trees crowd out each other and anything trying to grow on the ground. It some places it's quire a sight to behold.

As much as Andrea may complain on the hike up, the lake is great. It's got the deep emerald color that comes with glacial fed water bodies. There was a camping group next to the lake when we arrived and they were cooking a fish caught in the lake.



At the end of the lake is a mountain chain including what Andrea called "Gargoyles" - large rock outcroppings.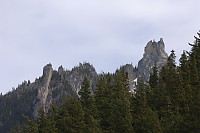 These Gargoyles were tempting - Greendrop lake should be about 2.5 km past our view point and although it was very early, we wanted to see what it looked like. We worked our way around the lake into a massive rock slide area. It's very slow going over the rock field and would be much slower if the rocks were wet or covered in snow.


When we got to the stream that feeds this lake the snow was less a "hey look - snow!" and more a "hey - look out! Snow!" and we decided proceeding would be a bit dumb - leave it for later in the season. We headed back and down - a great Sunday afternoon walk.

---
Tags: rock(2), glacial flour(2), lake(2), mountain(1), hiking(1), bridge(1)
People: Jesse(3), Bob(2), Jin(2), Andrea(1)
From: John Harvey Photo > John Harvey Photo - Hiking > Lindeman Lake


hi good way to tell about your hike and what the trail is like! any advice for someone who is going to do this hike soon? Is there any bears around that you would need to worry about?


Thursday, June 11th, 2009 at 19:54:41


Last Modified Tuesday, June 9th, 2009 at 01:01:11 Edit
Copyright and Contact Information.