A Second Attempt on Mt Cheam

And some clever quip...
---
I tried this
hike once before with Brendon and Ashley
, but the weather ended our trip early. It was pretty much a year later, Mike had never used his truck off road and Mark was up for a hike with a beautiful view - time to go for a hike!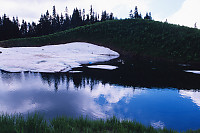 The ride up was the usual bumpy ordeal - the culverts were removed so you have to proceed slowly through the numerous seasonal creeks. Mike had a lot of fun on the way up. I was a little worried about the weather (it was partly cloudy), but I hoped the later day would see less cloud. Perhaps 2km from the parking lot, Mark asked - "Are we going up there?" pointing at the absurdly green patches where the meadows (probably cleared by avalanches) dipped down into the forest. Yes, we were going there.

Only a few minutes from the car I could see there was more snow on the group than last year. Spoon lake (where we ate lunch) was half filled with snow.



That said, the plants were further along - where the Glacier lilies were just starting to open, there were some now passed their prime. Alpine Lupine were in good shape and Indian Hellebore was well on it's way to dominating the landscape.


The snow started pretty early - we had to climb up a tongue of snow just past spoon lake and pretty much every less exposed patch after that had some snow crossing. The patterns of snow and life where the snow had receded made much of the mountain look like some extreme golf course.



As we got further up we started to be able to look down on the clouds as they passed by. The clouds were actually moving fairly quickly - you could see them pouring over the nearby ridges to fill the valley below only to be swept out by the next patch of clear air. Sometimes the nearby ridges would be enveloped in a passing bit of fog that quickly dissipate. The collections of cairns at the side of the hill add a bit of drama to the scene.



Just before we reached the summit, I noticed White Tailed Ptarmigan "hiding" on top of a pile of rocks. This bird must have believed it was camouflaged successfully because it didn't flinch as I got closer and closer with my tripod. Once I had taken my shot and backed away, it then decided to fly away. Thanks bird!



Finally the summit! When the cliffs of Lady Mountain had first come into view Mike pointed them out and said they looked nice. When I suggested we were probably climbing higher than them, his appreciate seemed to evaporate. Once we got to the top and saw the 360 degree view, Mikes spirts returned.



We weren't the only people at the top - three hikers proceeded us and three more came up while we were at the top, but there is a fair amount of space at the summit. The far side (the side visible from the Trans-Canada Highway) is pretty much cliff so much of the summit is two steps to one huge fall. The view toward Vancouver was pretty hazy (we hadn't had rain in while) but the unexpected silhouette was appreciated. You can see the glare off the Fraser River as it makes it way to the ocean.



Also at the top was a couple of chipmunks to entertain/harass/mooch from the passing hikers. Chipmunks are often hard to take pictures of (especially when they figure out you aren't giving them food) so I took advantage of another hikers left behind spoils.



We weren't quite as fast up the hill as the book suggested so it was a little later in the day that we anticipated - we really should get back to town. The light as we returned was softer and more photogenic so I stopped (or rather Mike and Mark indulged me) and took some snaps.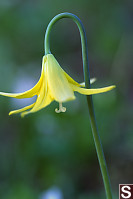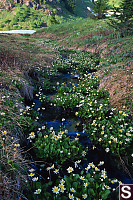 Back in the truck and we were in Chilliwak by 9pm - enough time to grab a late dinner and remember just how great those views were.

---
Tags: flower(7), alpine(6), snow(4), mountain(3), vista(3), BC fauna(3)
People: Mark(3), Michael(1)
From: John Harvey Photo > John Harvey Photo - Hiking > A Second Attempt on Mt Cheam


Beautiful photos and site! I am going to try Cheam next weekend,I hope the weather cools off a bit! Keep up the good work John.

Uel Livingstone
Friday, June 1st, 2007 at 19:34:38

Great photos! I just went up Cheam last week-- A lot of snow for the beginning of July (and the road up was washed out) but fantastic nonetheless. Thanks for reminding me of a great time!

Jenn
Friday, July 6th, 2007 at 07:09:12

What is the date when you went?Just curious about the road up as the "Jenn" entry of july 6/07 said it was washed out. We're hoping for some clear weather Aug long weekend for my first trip up Cheam. Thanks, loved the pics. TIA

Tia
Monday, July 23rd, 2007 at 19:09:43

wow those pictures are really something, what kind of camera do you use?

Nick Hart
Monday, July 23rd, 2007 at 23:51:28

This trip was July 2004. The road then was rough (it isn't maintained and they have pulled the culverts out). When I went up, it was 4x4 trucks and subaru's (I have a subaru) - some parts were a bit tricky. Sorry I can't give you and up to date report.

Great pics! Looked like a perfect day. Hoping to get up there this summer but looks like I'll have to round up a 4x4. I have been up there once before in '96 but there were too many clouds to see anything. Great update, thanks for sharing your experience.

Darren Thompson
Wednesday, May 7th, 2008 at 16:18:36

We were ther on Saturday, July 26, 2008. My friend could barely do the service road on his 4X4 Honda Element. On the way back his breaks overheated and started burning. So, try to drive downhill as slow as you can. Doing this road on a regular car is not a very smart idea but we found Kia Spectra close to the parking lot :) The hike is great - you always have a great view around. There are not many such beautiful trails.

Sergey
Monday, July 28th, 2008 at 12:01:53

I might try climbing Cheam next week when I am in BC. (I live in North Carolina.) I can not find good directions on-line to the trail head. Directions would be much appreciated. Thanks in advance.

Graham
Saturday, August 2nd, 2008 at 19:42:16

Cheam shouldn't even be attempted until it has a chance to dry out a bit -- our best climbs in the area have been late Jul. - early Sept. Make plenty of noise for the bears. Be ready for highly changeable weather, do the West Coast layering of clothes.

Ken Kutney

Tuesday, September 9th, 2008 at 20:52:00

That is some fantastic scenery, the second picture has just been saved to desktop background. You are so lucky to live in such a great area.

walsall
Thursday, October 7th, 2010 at 03:41:13


Last Modified Tuesday, June 9th, 2009 at 00:58:23 Edit
Copyright and Contact Information.