Lynn Canyon Headwaters

A nice afternoon walk

---
I'm pretty sure it was a Sunny Sunday afternoon, and we wanted to go out for a walk. We had a pretty large group for this hike - Jamie Cheng and two of his friends, David, Karen and Mark, and Sean and his sister Julia.



The Lynn Canyon Headerwaters have a number of different length routes so it's a good place to go if you aren't sure how long you want to walk for. We started on the upper route and walked along at our different rates.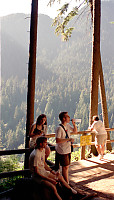 We stopped at a great lookout an afternoon snack. We had broken up into a little groups so this was a good place to wait and catch up.


We decided to walk on to far end of the loops, before you get to the single route to Norvan Creek. It was getting on late in the day so this was a logical place to take a break and then turn around. We took the lower route back which is much flatter and wider so it was quick to return home.


---
Tags: hiking(4), boardwalk(1), lunch(1), stump(1), bridge(1)
People: Sean(3), David(3), Mark(3), Karen(1), Jesse(1)
From: John Harvey Photo > John Harvey Photo - Hiking > Lynn Canyon Headwaters
From: John Harvey Photo > John Harvey Photo - Hiking > Norvan Falls > Lynn Canyon Headwaters

Last Modified Tuesday, June 9th, 2009 at 00:48:17 Edit
Copyright and Contact Information.