New York City
Go for the Wedding. Stay for the city.
---
The World Trade Center


On September 11th when we watched the towers come down on TV, I was in bed (3 time zones earlier) thinking - hey - I was just there! It was a year earlier and I was in New York to attend Brendon and Ashley's commitment ceremony.



Jesse and I flew out for the week and as well as attending the wedding we spent a week poking around various attractions in New York.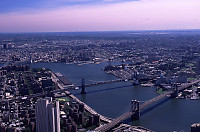 Wigfest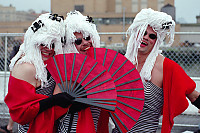 As I understand it - Pier 54 - some day in September, lots of the drag queens, one hell of a party. I seem to remember this was Jesse's idea, but I certainly enjoyed myself. Besides lots of people dressed up in unbelievable costumes (and a very open environment where dressed people like having their photos taken), there is stage variety show that half shows off what's out there and half celebrates the community.
Intrepid

Perhaps it was an overreaction to the massive does of gay culture - we did the tour of the Intrepid. It was somewhat sad - the gear, while amazing, is (unlike an air show) pretty much dead statues. The carrier is a floating warehouse. The whole thing is military recruiting event.


Brooklyn Bridge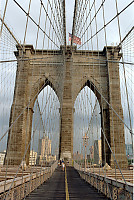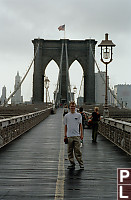 The Brooklyn bridge has been an element in countless television episodes, moves and art. It's old - built in 1883, it was a technological marvel in it's day. We took the subway to the far side and then walking across it (most modern bridges don't give such prefential access to pedistrians) back to Manhattan.


Chinatown


One of the striking things about New York is that mix of residential and comerical (and in some areas industrial) property. After walking over the brooklyn bridge, we found little Italy which is very quickly loosing to enveloping China town. This is 2000 so I didn't know I had such an obsession with markets, but I really enjoyed taking pictures.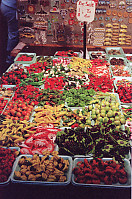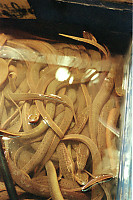 The Metropolitian Museum of Art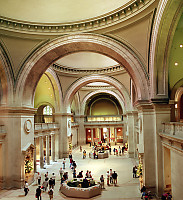 The Met as your first big art gallery is like loosing your virginity to the entire cast of Friends - their are some amazing parts, and some parts that while you don't enjoy them, you are sure other people would find them amazing.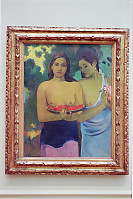 I (like most pesants) am a sucker for Impressionist paintings. They simply kill me - they aren't accurate representations of a scene but they are highly motivating. In high school I took a course in Western Civilization (my parents weren't huge museum people when I grew up) and I fell in love with art in general but impressionism (Claude monet specifically) was the sweetest part of it all. Seeing art in a Musuem is both rewarding and frustrating - you get to see amazing paintings for real, but you don't see all of the top works all in one place (they are often scattered amoung the worlds largest museums). Musuems don't have the back story you read on the internet but it will often introduce you to lesser known works that are still compelling. You can sometimes learn more about specific paintings - Monet made more than a dozen Wheatstacks and the Seurat painting has many "practice" or demo versions.
Other New York Stuff

Just walking down the street in New York you see things that you have attached emotion to because of it's role in a movie, a book or just culture in general. New York is an amazing town to visit.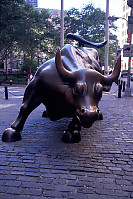 ---
Tags: art(9), costume(5), bridge(4), city(4), market(3), Museum(3)
People: Jesse(2)
From: John Harvey Photo > Trips out of the Country > NYC

Last Modified Tuesday, June 9th, 2009 at 01:06:46 Edit
Copyright and Contact Information.