Garibaldi Lake, Panorama Ridge

Camping gets you further range

---
I've been
up to Garibaldi Lake
three times before this hike including last year where I met Helen. The last three times I've completed the hike, we hiked up to the lake, (9km), around to taylor meadows (~5km) and back down again (23km for the day). This makes for a long day and sore muscels the next day but it does get you access to some amazing terrain. Helen's job gave her a Friday off, I took one off and we decided to camp two nights at Garibaldi Lake and on our day up there, go climb Panorama ridge.
The hike up is on a good trail - it could almost be road. The trail itself is pretty relentless - from the parking lot until you get to Barrier lake it's pretty much constantly up. On previous hikes I've had a camera bag and a tripod (and perhaps a liter of water) - on this hike I carried 3 liters of water in a 63 pound bag. (Canadians are crazy when it comes to units).



Finding a camp site was almost funny. Arriving fairly early, we had our choice of all but the best sites. We went through and evalutated sites the same way people evaluate condo's - nice view but bad smells from the out house, or small site and not flat, but nice kitchen. We ultimatly got a nice view spot but the privacy wasn't great.


Panorama Ridge

On Saturday morning we had breakfast (eggs and sausage with fresh blueberries - we were the envy of the breakfast table) and got a reasonably late start to our hike - Panorama Ridge. The ridge is on the far side of Garibaldi lake - perhaps 15km return and involved a fair ammount of vertical.


We had heard from other hikers the night before that the meadows were in full bloom, but I wasn't really prepared for how lush the meadows were. Anywhere there was water there were flowers. It quickly turned into a who's who of flowers - every alpine species I know is up here as well as a few that are new to me.


Full sun light (we had amazing weather all weekend) makes for great hiking but a bit of a tough time for flower photography. I often would seek out plants in the shade (constrast is reasonable) or just had to reject the photos in post. On my last trip up to
Joffre Lakes
, Helen actually pointed out a flower I missed -
I took a summary photo of it
, but I didn't find out until I got home that this is an orchid and potentially quite nice at that. This trip up I was quite happy to see that these flowers (which like very wet stream sides) were common in the meadow and it was easy to get a good photo.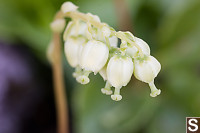 As we rose out of Taylor meadows we started to get views of Panorama ridge and where the day's hike would lead. While we still got glimpses of Garibaldi lake, we saw two new small alpine lakes - Mimulus (lower), Black Tusk (higher). These shallow lakes had wild flowers growing in fields at their shores and where small creeks fed them.
As we passed the divide between the two valleys Helm Lake (which drains into the Cheakamus river rather than Garibaldi Lake) camer into view. Helm lake is a grey mud colour because (I believe) it is much shallower than Minulus and Black Task lakes. On the shore of Helm lake you can see a straight line trail across what was once lake bottom. As we got higher, views of black tusk started to come into view. The two small lakes (Mimulus on the left, Black Tusk on the right) were layed out at our feet. We continued to climb.

All plant life seems to thin out as we entered the moonscape typical of higher elevation but from time to time high elevation plants would occupy a sheltered place.



A little late for lunch, we eventually gained the ridge and the amazing views. Panorama ridge obviously deserves it name - with great views of Garibaldi lake, the Tantulus range, Black Tusk and Whistler, this view gives you a great sense of place.



We had lunch at the top, took in the views and then started back down to camp. The whole day was about 15km and back at camp we could feel it. The next morning we had a leisurly breakfast (my stove was having trouble so the water took forever to boil) and then headed down. The complete weekend was >33km and the slurpie in Squamish sure tasted great!

---
Tags: alpine(11), flower(9), lake(6), hiking(5), meadow(4), mountain(3)
People: Helen(3), John(1)
From: John Harvey Photo > John Harvey Photo - Hiking > Garibaldi Lake, Panorama Ridge
From: John Harvey Photo > John Harvey Photo - Camping > Garibaldi Lake, Panorama Ridge
From: John Harvey Photo > Garibaldi Lake, Panorama Ridge


Hi, i was wondering what time of the year did you guys did this? I would like to go with a group of friends early this May, do u think its too early of the season?

Sushi
Monday, April 26th, 2010 at 19:20:46

My friend is coming from Korea to hike Garibaldi Lake in May 28. Is it too early to hike? Do I expect a lot of snow on the trail?

Jinho Shin
Monday, March 14th, 2011 at 21:14:02

I would expect a lot of snow in May (some years there is a lot of snow in July). You can find current conditions

at the BC parks web site.

.

Hello, You have terrific photo's. I was at Panorama Ridge yesterday and took some photo's of my own that I just put up. I came across your trip report through Google. Really good!


Last Modified Saturday, January 21st, 2023 at 23:43:55 Edit
Copyright and Contact Information.