Porpoise Bay, Sechelt (Spring 2002)
---
The May Day long weekend came up quickly this year and Andrea wanted to kick off the camping season. I had never been to the sunshine coast (but it seems that everyone else has) since most of the big provincial camp sites were already booked up (go figure - only one weeks notice) we decided on Porpoise Bay.
Our first morning we went Kayaking. Given my experience in Hawaii (got salt water on a camera) I decided not to bring my camera. We got back in the afternoon and decided to go for a walk around camp. The northern edge of the camp site is Angus creek - a salmon stream that is mostly covered over by forest. There is a trail along the edge of the creek with nice afternoon views.
Next to the creek is the lush plant life of spring. The ferns were just starting to come out and a few spring flowers were also making a show.
The creek breaks out onto the beach - a mostly sand flat beach with enough rocks to make jogging a hazardous affair.
From the Delta we walked back toward the day part of the camp and who should we run into? The rest of our party! The daisies were out in full force giving postcard pictures of the BC Parks picnic tables and a wonderful opportunity to show off how much we were relaxing on our trip - nothing like sleeping in a field of daisies!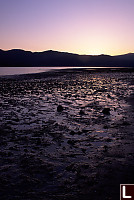 Back to camp for dinner, and I noticed the sunset was changing light around us. I walked back to the beach to see a great sunset.
We got rain both evenings so camp starts out a little moist in the mornings. Next morning and it's time for a walk!
Chapman Creek Trail

The Chapman creek is fast creek that caries salmon in the fall. We were there in the spring so it was probably flowing faster than average, but it didn't look like the kind of place you would want to go swimming. The trail itself has a number of gnomes and trolls craved into dead fall and stumps. The "spirits" were carved by Terry Chapman (not related to the person for whom the creek was named) in 1996. They certainly added entertainment to our hike.
We weren't particularly satisfied with the half hour hike with the carvings so we wandered further. The guide book (Sunshine Coast Recreation and Visitor's Guide) suggests there are falls half an hour after after the carvings. The book is wrong.
We hiked for about an hour and a half until we got to the power lines (part of the problem is not knowing where we were going because we didn't have a good map.) When we got to the power lines, we met some bikers who suggested the hike to the falls would be an additional 45 minuets. Most people were hungry so we just hiked back. When we got back we drove to a near by beach and notice a sign with a trail map. The book is wrong.
Our camp site has a ban on fires - at first we were confused, but the first night we saw a plume of smoke sitting over the far shore - the air flow around the combination of mountains, inlet and open ocean causes air to sit over Porpoise Bay at night. The camp site has three small fire pits (community fire sites) and in the evening we joined in and quickly found ourselves there alone.
For a May day long weekend trip, we expected rain, but we still had a lot of fun!
---
Tags: art(5), stream(4), Sunshine Coast(4), beach(3), dappled light(2), fern(2)
People: Karen(3), David(2), Jeremy(2), Andrea(1), Mark(1)
From: John Harvey Photo > John Harvey Photo - Camping > Porpoise Bay, Sechelt
From: John Harvey Photo > Porpoise Bay, Sechelt

Last Modified Tuesday, June 9th, 2009 at 00:26:09 Edit
Copyright and Contact Information.