Canyon

Returning to Familiar Locations

---
Previous:
Ten Mile Lake
We drove down to Ten Mile Lake to our next camp site - a RV park called Willow Spring's Resort. We stopped in early, reserved out spot for overnight and then went on to a bit of Rockhounding. First stop was a turn off that promised mable. I had this image of a solid rock quary with slabs of counter tops sicking out. I was wrong - it was quite soft and while there were some colours, nothing polished up hard.
Our second stop was back at the amethyst spot on Scotty Road. We did get some samples there, but again, nothing really show worthy.

We drove back to Willow Spring Resort for a an afternoon swim and a walk around. The spring (a lake in a long chain of lakes) was beautifully clear and had a nice dock for running in and climbing out. A few meters back was sandy cliff and I noticed swallows were servicing a nest. With a long lens it wasn't hard to get a photo, but I didn't figure out that these we actual Bank Swallows until I got home. Bank Swallows have had a hard time in Canada and given how few of them there are, I though there would be some sort of protection.




As this was our last night on the road, we consumed our "lasts" - the last of the firewood, the last of the ingredients for s'mores and so forth.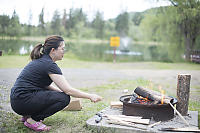 Helen started doing some research and found a farm that has grown to attraction size - Desert Hills Ranch Farm Market. North of here, we didn't see much fruit for sale. At Cache creek we started seeing farm stands, but Desert Hills took "farm stand" to a whole new level. We bought a large box of apricots to share with neighbors when we got home. They had a large ice cream counter.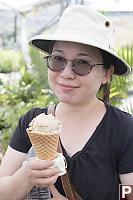 As we drove back to Vancouver we saw Bighorn sheep at the side of the road.


We safely pulled over and noticed there were quite a few more sheep in the hills just off the road.



This looks like a family of moms with babies - I didn't see a single adult male in the group. The highway cuts between the river and mountain and I suspect the sheep like the greener plants near the water.



We had one last RV stop at the Bradner rest area in Abbotsford - the last free sani-dump before the city.

---
Tags: ice cream(2), s'more(1), lake(1), swimming(1)
People: Helen(1), Nara(1)
From: John Harvey Photo > John's Overnight Page > Prince Rupert Road Trip > Canyon

Last Modified Saturday, January 28th, 2023 at 22:54:57 Edit
Copyright and Contact Information.