Rathtrevor Camping
Camping On Vancouver Island

---
Life in Camp
One of my friends believes that camping should be a human right for kids. We try to go every year and I appreciate trying new places. This year we were originally thinking of camping near Merritt on Nicola lake, but Helen found a bunch of nights at Rathtrevor at the same time so we decided to change our location. The island location worked well for us because it dramatically reduced the travel time after camping to go visit family.

Last year at Shuswap lake, Nara really enjoyed the biking. Claira tried really hard to be bike ready in time for this years camping. Their number one fun activity was going for bike rides. As soon as they were out of the tent in the morning they were on their bikes. They ended their day on their bikes.



We were pretty lucky with our neighbors - our last night was almost spooky because our neighbors were almost clones of us - two parents, two daughters, roughly the same age. The kids couldn't help themselves showing off whatever they could.



We arrived the first night a little later than we wanted to - we missed a ferry by about 10 cars. When we arrived, we had lots of chores (setup a tent, find the bathrooms) so we didn't really stop going until the kids were asleep and the sun was setting. Being on the East coast of the Island, you don't get the super dramatic sunsets, but the colours are still nice.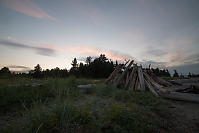 Camp Critters
BC Parks is mostly a friendly place for wildlife. There were rabbits in many of the grassy fields and you would see a deer at least once a day. I counted at least 4 different individual deer in a day.



We saw butterflies fly through from time to time and eagles resting in the trees surveying the shore. On a morning walk, I heard a bunch of crows making a racket and found them bothering a great horned owl. I took a few pictures and backed off. I walked back to the camp site and got the kids. The owl didn't like the kids - the owl flew when we started walking up.


Beach Activity
Rathtrevor is best known for it's beach. The large sandy beach comes out every low tide and families haul out to play on the sand and swim in the shallow, warm water. We came prepared for some tidal exploration.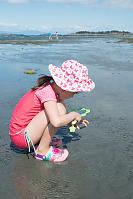 The kids really enjoyed finding crabs. They learned that most stones have crabs hiding underneath so the kids rolled over every rock they could find. The favorite was hermit crabs because they come with a house and they often try to hide in their house.



At the very edge of the ocean you could often find sand dollars. We have found these before at other beaches, but they were pretty common here.



It's a long walk out to the waters edge. You have to watch you don't get too much sun.


Day Trip - Englishman River Falls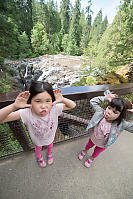 Our camp site had lots of sky so it got hot during the day. The beach also doesn't have cover so we wanted a hike in a forest to keep cool. We decided to go to Englishman river falls. I've been a few times before.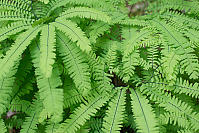 The forest really was cool and I enjoy a walk in the trees. The kids really want to walk anywhere but the trail.
The waterfall at the end was almost non-existent. I suspect the falls only go over the rock when the river is really running. Today it was a nice calm pool that really invited swimmers.
---
Tags: crab(3), beach(3), deer(2), rock(2), biking(2), camping(2)
People: Claira(6), Nara(6)
From: John Harvey Photo > John Harvey Photo - Camping > Rathtrevor Camping

Last Modified Thursday, August 10th, 2017 at 22:13:52 Edit
Copyright and Contact Information.