Hanoi And Halong Bay

Welcome to Hanoi

---
Hanoi
We were on an afternoon flight from Hong Kong and we arrived at the airport (which isn't exactly close to downtown) just before sunset. We had a car waiting (we booked a package ahead of time) and we were quickly brought into town. After checking into our hotel (Hoab Binh - it apparently means peace), we decided to go for a walk and look for dinner.


I've been to India - I've seen countries that aren't quite as developed as Canada or the US. I was pleasently surprised with Vietnam. There are sidewalks, taffic isn't badly behaved (although sometimes all those motorcycles are intemidating), and people are quite nice. In the small part of Hanoi we visited we found most of the city was focused on making money from tourists.


After poking around for a bit, we found our restaurant (Green Tangerine) and had a fantastic dinner. If this was eating in Vietnam, this was going to be a really good vacation.

Halong Bay
Halong bay is a UNESCO world heritage site. Most "go see Vietnam" brochures include pictures of Halong Bay. The bay was a three hour drive from Hanoi (with a "bathroom" stop at a "factory" selling pretty much everything) and the tourist center (where all the boats dock) was an outright zoo. We got on board our boat and were very impressed.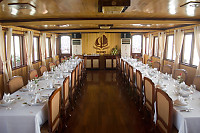 We quickly got under way and sailed out into the Islands. The Islands were somewhat hazy. It's hard to know why - is it agricultural burning or polution from china, or maybe polution from nearby Haiphong - no idea.



Lunch was servered on board as we moved through the islands. We passed people fishing or just rowing through.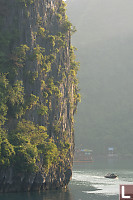 As I understand it, there are many perminate residents in the Islands. When we arrived in the bay, our boat was approached by a number of smaller "service" boats offering to sell us cookies, beer and shells. These little boats travel around and harass the large boats when the arrive. They are actually pretty photogenic. That said, they don't like having their photos taken if you aren't buying.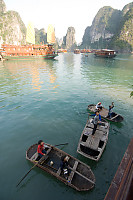 Hang Thien Cung (Grotto of the Heavenly Palace)
After we arrived in the bay, we came to shore and walked up the cave. There is a bit of a climb to get up there, but once inside I was amazed by the volume and the quality of the paths through the space.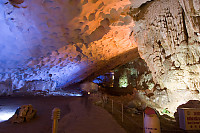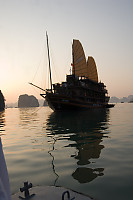 After we got out of the cave and back to the boat it was pretty much sunset. We didn't move very far - basically across the bay. There was a small beach but most people stayed on board to relax.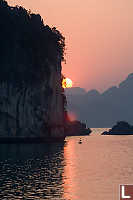 The next morning was somewhat like a hangover. Lots and lots of boats, and you realize you really are tourist cattle. We had another ride to a cave (this one opening up into a hidden lagoon inside an island) and then our boat starting moving inevitably back to shore.

Zen Spa (back in Hanoi)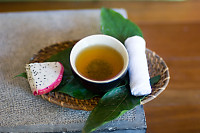 We came back to Hanoi (again in car, again seeing pretty much just road and road side stores), and stopped by the travel office before we went to the train station to go North. After working out the paperwork, we went through their books and found a nice spa. Because of the low cost of labour, services like spa's can be a great deal compared to Canada. At Zen spa, Helen got a 90 minute treatment for about $45 dollars - the same treatment in Canada would be at least $200, and wouldn't have the amazing setting.


At this point, I'm seeing a type of tourism I've never done before. Japan has hot springs that are somewhat similar (there is no similar experience in Canada that I know of), but other than that, I've never done "spa" tourism.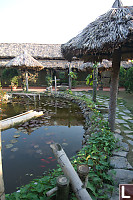 Next:
Sapa, Bac Ha and Markets
---
Tags: Vietnam(26), boat(10), sunset(3), night(3), long exposure(2), restaurant(2)
People: Helen(1)
From: John Harvey Photo > Trips out of the Country > Vietnam > Hanoi And Halong Bay


Awesome cave!!!

Caelan Lewis
Sunday, June 22nd, 2008 at 21:27:55

Halong bay is always amazing. I was there 4 times and still want to go there again.

Hoang
Thursday, December 6th, 2012 at 18:23:12


Last Modified Saturday, January 21st, 2023 at 23:45:47 Edit
Copyright and Contact Information.