Whistler May Long Weekend

First May Long Weekend With a Child

---
I'm the first to admit - this trip was an experiment. We have been on a large number of May Long Weekend trips before, but never with one of us bringing along a child. Worse, it was my wife and I with the child - how would a May Long weekend trip work out? Let the experiment being!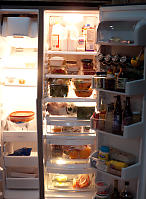 Back in the day we used to do high resolution planning and central purchasing of the meals to reduce waste and ensure everything was brought. We picked Whistler partly because it was so close to home (if we had to bail we could) and partly because it has so many services - if you need to buy stuff to double your batch of waffles, it isn't a problem. We did fairly well on the food side - most people brought good amounts and we didn't need to bring that much extra for the kid.


The house itself is one of the nicest we have rented. The one number: the neighboring houses available on the MLS sell for more than 2 million dollars. This is a six bedroom house and would have no problem hosting a busy party of 12. Compared a different way - it's on a golf course (none of us golf) and the property isn't particularly spectacular. We have stayed at ocean front places before (
Galiano
,
Bowser
or
Mudge Island
) and on a farm (
Salt Spring
) and in those cases the property was much more spectacular. That said, this house had large volumes of Granite and definitely the nicest en-suite bathroom.
So what about the entertainment? Obviously we do a little bit of drinking and relaxing in the Hot Tub. Not exactly kid friendly. We needed to bring some books and toys (and Nara really did play with those toys) but there were lots of other opportunities. We found all of the playgrounds in town and some of the decorations in the house turned out to be kid friendly. (The pool table was fun for instance).

We have evolved as well. I noticed it first when we went
camping in the Okanagan
- we have cell phones that can entertain us. This vacation was the worst for that - Friday night and we are all rolled up on the couch playing on our respective
i
Thingies. We have a problem. By the end of the trip there was a big game of "Order of the Stick" going which seemed more like old times.
So how much can there really be to do when you are staying on a golf course? More than you might think. It's cliche, but the first night I went around picking up stay golf balls - enough to fill two egg cartons. There is something oddly satisfying about finding and keeping things. This golf course also has a water base for Whistler Air so we went for a walk on the dock to see the planes. For comparison, in Vancouver, you can't even get close to planes without going through a gate.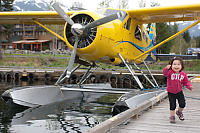 Of course, being Whistler, you can also just wait for a bear to come along. Two mornings we watched a large black bear wander through the back yard looking for things to eat (mostly eating dandelions).


Nairn Falls
One of the great things about a vacation rental is all of the small attractions that might not be worth a day trip from Vancouver by itself, but are worth the short drive from where you are staying. I had never been to Nairn falls even though I have driven by it half a dozen time.


Going with a two year old was a bit of an experience. The first 50 meters of the trail is paved so we got out the stroller. The next 200 meters are crushed gravel and easy to navigate. After 200 meters it's rocks and roots and not at all appropriate for a stroller. Worse, the trail is cut into a fairly steep sloop that runs pretty much uninterrupted in a large, cold, fast flowing river. One trip by the kid and she was going in. Not so great for two year olds.

The falls observation area was actually quite nice - you can get close to the falls but it is fenced in so we weren't going to loose our child. The rock was good for kid to climb on and there were nice flowers here and there.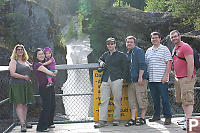 Brandywine Falls
I've been to
Brandywine falls a number of times
- often just as a rest stop to break up the drive to Whistler for out of town guests. It's great kids safe walk - not very long, lots of fencing where there is any risk, trails wide enough that a stroller doesn't clog things. The view of course is fantastic. It's funny that Nara doesn't really get much out of waterfalls - perhaps a bit to abstract and far away.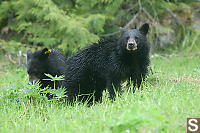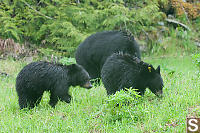 On the drive back to Whistler we saw some baby bears (and a Mom) feeding at the side of the road. We pulled over and took some photos. That was a bad idea - quickly there were 7 cars hanging out at the side of the road blocking traffic. So bad.



So, what is the verdict? Take kids on May Long weekend trips? It's a lot of work and your expectations may need a reset, but I'm glad we went. I won't get as many good photos out of a trip, or see as much as I could before (can't have a kid running into danger) but it's still great to get outside and enjoy what makes BC great.





---
Tags: waterfall(2), drink(2), dandelion(2), twin(1), breakfast(1), game(1)
People: Nara(6), Helen(3), John(2), Stephen(2), Jeremy(1), Mark(1)
From: John Harvey Photo > John's Overnight Page > Whistler May Long Weekend
From: John Harvey Photo > Blogs for 2022 to 2005 > Whistler May Long Weekend
From: John Harvey Photo > Whistler May Long Weekend

Last Modified Saturday, January 21st, 2023 at 23:50:16 Edit
Copyright and Contact Information.