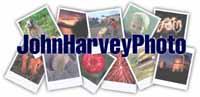 September 2020
And some clever quip...
---
Victoria For Labour Day
Our kids stayed at Grandma's house for the week before Labour day, and then us working parents over to visit for the second weekend. Marcus and James and their parents came as well so we had lots of kids and lots of parents which gave more time for activities. I've wanted to go to Whitty's Lagoon for quite a while and so we packed a lunch and headed out!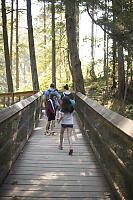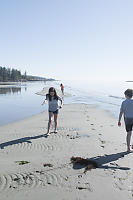 If you get the tides right, there are small sand island forming shallow lagoon where the water heats up. There doesn't appear to be a dry route to the islands, but you came to the beach to get wet right?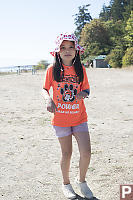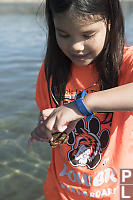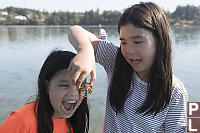 After our time at the beach, we got back in our cars and drove home. We noticed a "farmers market" sign and dropped in to see if there were any good local veggies. The farmers market was run well - hand sanitizer, limited admission numbers and prescribed walking route around.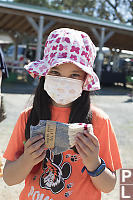 While we did find some veggies, Claira found some kids sized fingerless gloves and Helen found some nice ceramics.
Outerbridge Park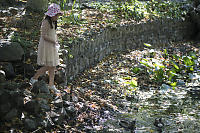 Outerbridge park is just around the corner from my parents house - you can walk over after dinner and still be back in time for bath time. When the kids are entertained, I enjoy going over to see what I can spot.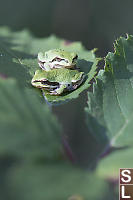 One on trip over with the kids, Claira claimed she saw a frog. It jumped before she could show anyone else, but she was sure it was a frog. I spent a bit of time and eventually found a large number of frogs getting sun on leaves. They were very patient - you could get quite close and they didn't jump.



I was able to take photos, go home, get the kids and by the time I was back, the frogs were still there. The kids weren't as fascinated as I was, but I think they still enjoyed seeing them.

Tie Dye Project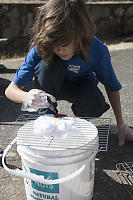 My mom got 4 white shirts and some tie die kits. The kids followed the instructions winding the shirts up and then wrapping them in elastic bands. In the morning sun they put the dye in and then left them for a few hours for the colour to set. After a few hours, the dye was supposed to be set so the shirts went through the washing machine. Turns out the red runs quite badly so we got 4 mostly pink shirts, but the kids were still happy.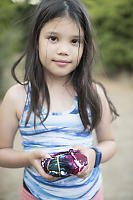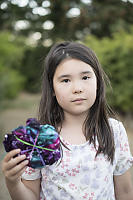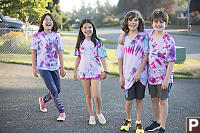 Beach at Cordova Bay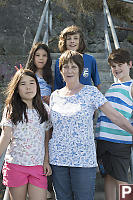 We normally go to the beach near McMorrans restaurant. There are other beaches and one of my favorites is D'Arcy Lane Beach Access because it's mostly walking distance and while the beach is small the rock cliffs are quite interesting.


My Mom's birthday is early September. It's rare all of her grandchildren are around for her birthday - Happy Birthday!
Playground at Lochside Elementary
There are two playgrounds fairly close to my parents house - McMinn Park and the playground at Lochside Elementary. While there are lots of good things at McMinn, Lochside is a bit closer so the kids can pretty much on a whim. This years favorite equitment was the Rotator - an umbrella like piece of equipment where the top can rotate. It's not quite fair - Claira is just a little shorter so she can't get on everywhere. Nara has great hand strength and can hang on longer than everyone else. We tried to make games that everyone could win, but the rules because quite complicated quite quickly.


Reifel Bird Sanctuary
Early in the COVID Outbreak, the Reifel Bird Sanctuary closed. I didn't hear when it opened again, but the internet told me it was now open. The new format requires you to book ahead to get a time slot so the parking lot doesn't become crowded. It was a little rainy so we got a "short notice" slot, but on a sunny day you definitely need to book in advance.


At this point, my kids are pretty good at feeding birds out of their hands. This behaviour is widely seen - kids everywhere are sticking out their hands trying to attract chickadee's and Red Wing Blackbirds. On our recent trip to
Manning Park, we found birds there were looking for hand outs
, as are birds at Stanley Park, but it's not universal. A walk around QE Park found that the Chickadee's completely ignored seeds in our hands.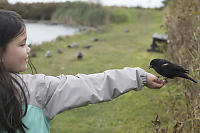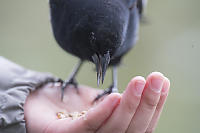 There are bird feeders around the sanctuary at various places so it's pretty easy to spot small birds near the paths waiting for a turn.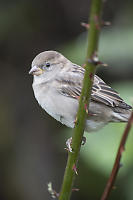 My bird portraiture still needs work, but I'm trying.


---
Tags: Reifel Bird Sanctuary(6), playground(5), Outerbridge Park(3), bird(3), running(2), hand feeding(2)
People: Claira(17), Nara(11), James(7), Marcus(6), Janet(2)
From: John Harvey Photo > Blogs for 2020 to 2005 > September 2020

Last Modified Sunday, January 3rd, 2021 at 00:06:04 Edit
Copyright and Contact Information.