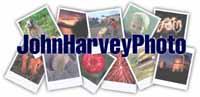 Mekong Delta
Average Elevation: 0 Meters

---
Day 1: Cai Be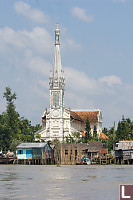 We woke this morning in our hotel in Hanoi, enjoyed the buffet and checked out. At 8am we walked out of the front doors and looked for our next trip. I'm always amazed these booked over the internet packages work, but the SUV idling in front of us confirmed that I didn't need to make a call to the credit card company. We had booked a 3 night Mekong Delta trip and we had a driver, guide and car for the next 3.1 days.


Our first destination was Cai Be. It's about 2 or 3 hours from Ho Chi Minh City and so we had a drive to get there. The highway was never up to Canadian standards, but our driver got us through pretty quick. At some point the roads got smaller and then the driver just pulled over. We got out and there was a river boat waiting for us. Our guide got in first and we went for a short run out into the river. Out first stop is a market that sold a variety of refined food products. I was particularly impressed with how rice wrap paper was made.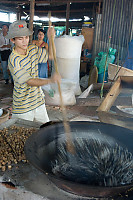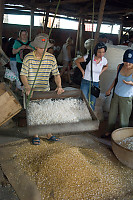 There were a number of stores / demo factories next to the river here and each store specialized in a few products. The place was thick with tourists which worried me about what the rest of the trip would like. Helen and I had been shopping plent already so we were reluctant to add to our burden but we did pick up some candy.


After this little demo we got back into our boat and motored out into the Mekong. We watched traffic go by and eventually stopped at a small restaurant set out over the river. We were almost alone there with our beautiful view of the river and an impossibly large meal in front of us. This was more like it!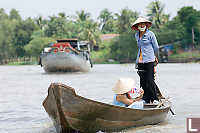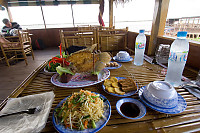 Into the Canals

After lunch and a nice rest, we got back into our boat and motored down a canal that seperated two large agricultural Islands. As we slowly motored down the canal we caught glimpses of life - fruit being transported and people harvesting snails from the river banks. Hand pushed boats glided by (often carrying tourists). The people on shore seemed friendly, often waving and smiling.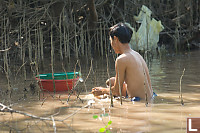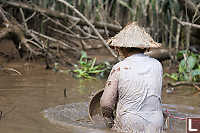 After what seemed forever wandering through canals (If I was driving we would have gone around in circles) we came up to a dock and were done - back in the Everest, fresh bottles of water and we drove to Can Tho.


Can Tho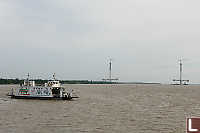 Can Tho is on the other side of one of the major branches of the Mekong and we had to take a ferry to get across. In the distance you can see a huge bridge being built so that traffic can move easier. I was quite impressed with the scale - both of the bridge and of the ferries. The ferries run 24 hours a day and when we crossed there were at least 6 different ferries at various stages of making the 10 minute trip. What is hard to appreciate from a photo is that the Mekong can run pretty quick (probably as the tide falls) so the ferries were strongly angled against the current coming and going.
Day 2: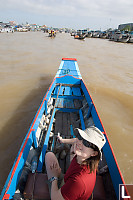 We overnighted in Can Tho and the next morning went out for the markets in the river.


The market in Can Tho is a wholesale market. Boats from the farms nearby come to this market and sell their boatfull of goods to the larger boats. The larger boats then sell a variety of goods to smaller boats that go out to the smaller communities and sell the goods. The heavy action happens early in the morning, but it was still pretty active when we were there.



The larger trading boats generally have a stick thrust up into the air with samples of the produce they have on board. Some trade boats may have only a few products, some boats have pretty much everything you can buy in the area.



After the markets, we drove toward Chau Doc. It's not a short drive but thankfully our guide had a few stops in mind. Our first stop was a bird sanctuary. We pulled over and our guide rented some motor cycles and drivers to take us into the sanctuary - perhaps 1000m from the road. The "sanctuary" is actually quite small - it's a stand of bamboo that the little egrets have colonized.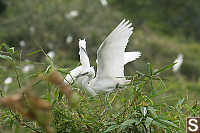 In the middle of the stand is a two story high metal platform that gets you to the level of the canopy. No blind - the birds see everything you do and there are local children up there playing while you take photos, but still quite a nice experience. I have never seen so many egrets together before.

Our next stop was a crocidile farm. This farm raises Crocidiles for export for their skins. Apparently they are a local fresh water species and I was quite impressed by the number of walls they had to prevent a release into the river. The Crocodiles are caged into groups based on age and size and they live about 4 years before they have reached a good trade off of size vs quality of skin. From their they are shipped live to China where they are slaughtered, skinned and made into export products.


Our final stop was a small family home making incesnse sticks. Repetitive manual labour, but apparently it paid well enough to afford machinery.



Our last destination is Sam Mountain. Sam Mountain (a hill) is the front most foothill on the border between the Mekong Delta and the hills behind it. From the top of the mountain you can see into Cambodia (See the large wet area) and Chau Doc on the bank of the Mekong. This area is dry because of the water canal and dike building. Because the land is drained here, the Vietnamese can get another crop of rice out.


We stayed in a hotel half way between Chau Doc and Sam Mountain.
Day 3: Chau Doc
We went out for another trip on the river. Chau Doc is right on the border with Cambodia and there are fast boats here that can take you deep into Cambodia.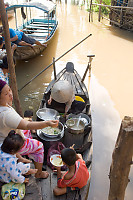 We poked around some of the smaller channels.

Driving to Rach Gia


As we drove from Chau Doc to Rach Gia was passed through rural fields and small villages. One village had a festival going so we backed up the vehicle and took a look around.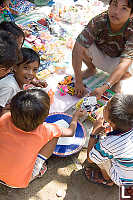 What really surprised me was the child gambling. I think it was all for fun, but the image of kids betting and adults giving and taking money was a bit jaring.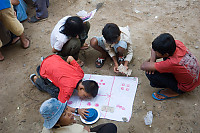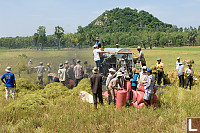 As we continued driving towards the coast we passed a field being harvested. Most fields are divided into a number of smaller fields, each owned by a family. Come harvest time, the community gets together to harvest the rice. A large threshing machine (some self powered, some tractor powered) comes in and the whole community contributes to process. Stalks are cut and bundled and fed into the machine. Rice pours out of one end while straw is thrown from the large gap. The staw is saved - it's stored in the rafters of many homes for use as feed for the animals in winter.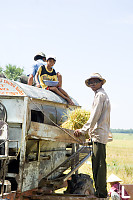 We pulled over and I walked around to look for pictures. The people bagging the rice grains wanted to see there photos and they got so engrosed in pictures that they neglected to provide a new bag for the women filling. Much yelling, smiling, and laughing and the men returned to work.

---
Tags: Vietnam(39), boat(11), farm(7), market(6), produce(5), bird(4)
From: John Harvey Photo > Trips out of the Country > Vietnam > Mekong Delta

Last Modified Tuesday, June 9th, 2009 at 01:29:06 Edit
Copyright and Contact Information.