Jasper

An Amazing National Park

---
Every once in a while you can see a Magpie in Vancouver, but for the most part we have crows. Once you get to the interior, the magpies take over. They are smart and social and usually aren't that keen on people unless they have figured out that people = food. We pulled over into a rest stop (bathroom break) and this Magpie was clearly a resident of the rest stop - he didn't go far and spent most of the time watching people. I was happy I could get close because it is a beautiful bird.
After we got the truck unpacked and camp set up, we drove into town to see what the options are. The kids found a Bubble Tea place that would do well in Vancouver. Very few towns can boast such a good cafe. Over the next few days we had a few more dinners in Jasper - there aren't a lot of choices, but generally the restaurants are quite good.
Sixth Bridge, Flower Walk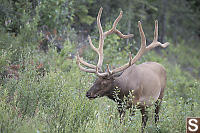 While driving back to the camp site, I spotted this Elk near the side of the road. Elk are pretty common around Jasper, but one with antlers this large isn't. It was worth the time to pull over and take out the camera.
Mount Edith Cavell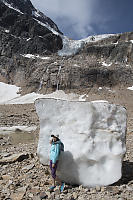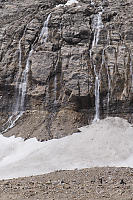 The risk is avalanches - snow regularly falls of the glaciers and could easily kill you. The calm pond at the bottom can dramatically (as in faster than you can run) exceed it's banks if the glaciers above drop into it. While there were lots of people near the lake, there were more going to the snow fields under the glaciers themselves. That was too risky for us.
Miette Hot Springs
Pyramid Lake
Athabasca Falls
This waterfall has been slowly eroding it's way though the rock here for probably thousands of years. It's probably the second most "Must Visit" stop on the icefields parkway after the Athabasca Glacier. I have visited at least two other times. The trails are paved and wide but it's still worth a stop to see the waterfall and the old courses of the river.
| | |
| --- | --- |
| | As we drove south on the Icefields Parksway I saw a dramatic waterfall where the water fell and was blown away before it ever reached the ground. We pulled in and found a climber with his converted van. Apparently this waterfall (Called Curtain Call) freezes over in the winter and makes an excellent climbing structure. It can be climbed in the summer as well but the waterfall can make that quite challenging. |
Athabasca Glacier
We tried to use every minute we had, but the bus has a schedule so we were off back down the mountain. The guide did have some interesting stories. There is a triangle of spruce trees high on the mountain side. Apparently there are 800 year old trees growing in that grove - they are severely dwarfed by have only two months a year for a growing season.
Horse Back Riding at Jasper Riding Stables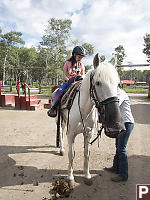 Maligne Canyon
Life in Camp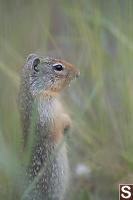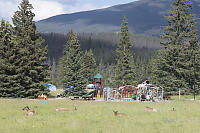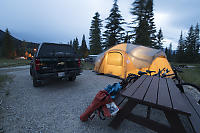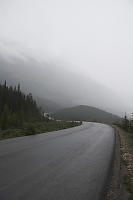 Bow Lake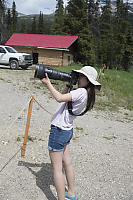 ---
Tags: Rocky Mountains(23), flower(6), glacier(2), snow(2), picnic table(2), tent(2)
People: Claira(5), Nara(5), Helen(2), John(1)
From: John Harvey Photo > Blogs for 2023 to 2005 > Banff Jasper Road Trip > Jasper
From: John Harvey Photo > John's Overnight Page > Banff Jasper Road Trip > Jasper
From: John Harvey Photo > John's Overnight Page > Jasper

Last Modified Sunday, January 22nd, 2023 at 00:13:11 Edit
Copyright and Contact Information.