Golden

How Many National Parks can you visit?

---
Big picture - we had just finished 10 days in
Banff
and
Jasper
, mostly in a tent and we wanted some place to stay that had warm showers, laundry and wasn't terribly expensive. Given that we were leaving from Jasper in the morning, Golden turned out to be the closest city that fit most of the requirements. We found the Kicking Horse ski resort had great rentals at a decent price so we booked them!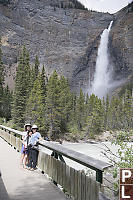 We weren't super early out of Jasper in the morning and we had a few stops on the way to Golden. Our first stop out of the park was Takakkaw Falls in Yoho National Park. I remember this destination from my childhood (I remember how soaking wet it was you got close) so we drove up the road and checked it out.
Yes, it's still wet. The kids got out for a walk around and got to appreciate the wet zone close to the falls. I started to understand Yoho National Park a little better. This isn't a park with a Gondola and Hot Springs. There is no giant hotel with an even larger parking lot at the base of glacial lake. To really visit Yoho National Park you need to do big hikes and camp. While I really wanted to be that guy, it isn't an option with our family right now.
Columbia Wetlands
Claira wanted a "do nothing" day. She just wanted to read her books and relax. Helen had a similar mindset so I took Nara and we went out for a little paddle.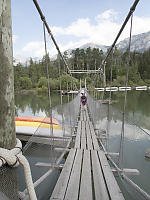 We found a place that rents Kayaks called Columbia Wetlans and after a bit of work found a person, a kayak and a map. The site is like a giant playground for kids, but amazingly it was empty. As far as we knew, we were the only people Kayaking.


It's still early summer after a wet, cold spring. The water levels everywhere are really high and the river here was no exception. The map suggested a route though a bunch of islands but the river was running so hard that it would have been a brutal slog. We instead found a small route into what seemed like a small like and paddle around in there.



This part of the Columbia advertises a hundred+ species of birds. The must mean during the spring and fall migration because we saw very little other than year round residents such as Great Blue Herons.

After our paddle, we went into town and had lunch at Bacchus Books and Cafe. They had a good selection of used kids books so we picked up more content -
A Series of Unfortunate Events
and
The Land of Stories
for Claira to consume. I really appreciate a small town book store - I was impressed with Bacchus.

Revelstoke National Park
On the "things to do here", the Meadows in the Sky Parkway in Revelstoke makes the list for many surrounding communities. For us it was an hour and half drive from our hotel to get here, but it seamed worth the effort. Our handy Park Pass got us through the gate and we drove the paved road almost all the way to the top of the mountain! We did try to leave early (before 9am) so we would have a chance of getting a parking spot.


The first thing you notice when you get out of your car is the Yellow Glacier Lilies growing almost everywhere. I consider these an early season flower - you can sometimes see them punch their way though the snow.


There is a short hike from the main parking lot to the upper parking lot (tiny and reserved for people that really need it) and then to the peak of the mountain.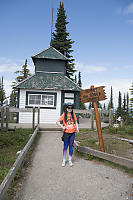 There is a fire lookout station up here (which I have a hard time believing is still used for it's purpose) and some nice benches for lunch. The North side of the mountain top still had a thick blanket of snow.


After you see the summit, there are a few other short looks at the top. We tried one loop only to be blocked by snow. We turned back and paid more attention to the flowers and animals.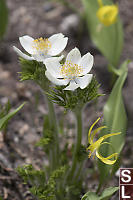 One of my favorite flowers is White Pasqueflower, also called Western Anemone. The flower is also early in the season and short live, but the seed heads (still a few weeks away) are fantastic - full of whimsy.



We walked back to the truck (we took the road rather than the trail because the trail was still quite wet) and drove down the mountain. Revelstoke had a few nice stores (Yeah Slurpie!) and then we started the drive back to our hotel in Golden.

Rogers Pass
We actually stopped to just use the bathrooms. They were VERY nice bathrooms - amazing glacier art on the walls and a nice water filling station. The next building over had a museum for Rogers pass and it was free with our parks pass. They had a great diorama of how the pass allows trains through and how a pair of consecutive avalanches turned into a railroad disaster.

There was a park ranger at desk answering questions so I asked him about three closest short trails - Skunkcabbage Boardwalk Trail, Giant Cedars Boardwalk Trail and Hemlock Grove Boardwalk - why were all three closed and when were they opening again. I may have the order wrong here - Skunkcabbage Boardwalk experienced flooding at the boardwalk floated off it's foundations. Getting equipment in to fix it is tricky. Giant Cedars was closed because a tree came down and destroyed the boardwalk. Hemlock Grove has a number of trees that will come down and they don't want it coming down on people. Parks Canada regrets that they are all closed, but sadly none of them are easy to fix.



A little wiser, we set off back to Golden for dinner in our own kitchen.

Golden
Golden is smaller than Jasper (where we came from) or Revelstoke. The town itself is kind of split up - there is a piece that straddles the highway (hotels and fast food) and an actual town down close to the river. We stayed up on ski hill (good value) but I really enjoyed a few blocks of Golden.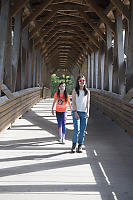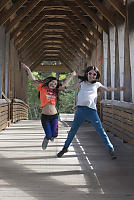 Golden has a covered wooden pedestrian bridge over the kicking horse river that is an attraction all by itself. Next to that is a shopping district with a really nice new and used book store, a bakery, lots of sports stores and a gallery. This town is tiny compared to Whistler, but you can see how the same kinds of ingredients are at work. The people here are young - I think this town has a bright future.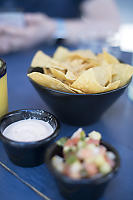 We had cooked meals at our own place for a few nights but we did decide to take on night out. I wanted Mexican food and Reposados had a nice patio. Kids liked the food - everyone was happy!


Golden Farmers Market
On Wednesday we we were supposed to go half way home (Kelowna), but I wanted to drop in on the Farmers Market in Golden to see if there was anything to pick up. It was a nice little market - a good mix of art and fresh produce, cooked items and community groups.



The Kids found an artist doing face paint and that is what they wanted.


Skunkcabbage Boardwalk Trail
We had lunch for the farmers market (and a small bakery in Golden) so about an hour and half down the highway we decided to stop in a Skunkcabbage Boardwalk Trail to use their picnic tables (and bathrooms). The view from the table is great. At the far side of the park is the bridge to the swamp boardwalk trail - that should be closed. Surprisingly, the board blocking the bridge was set aside and a park staff person was cutting grass. He mentioned I could go take a look if I wanted to.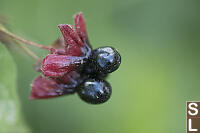 The boardwalk is pretty abandoned and there are certainly parts that are wrecked.



---
Tags: military(3), waterfall(2), food porn(2), face paint(2), photographer(1), climbing(1)
People: Claira(6), Nara(5), Helen(2), John(1)
From: John Harvey Photo > Blogs for 2022 to 2005 > Banff Jasper Road Trip > Golden
From: John Harvey Photo > John's Overnight Page > Banff Jasper Road Trip > Golden
From: John Harvey Photo > John's Overnight Page > Golden

Last Modified Sunday, January 22nd, 2023 at 00:13:21 Edit
Copyright and Contact Information.