Hong Kong 7
Hong Kong With a One Year Old

---
Both Helen and I had a large number of Cathay points that were going to expire so booking a trip to Hong Kong seemed like an obvious thing to do. Turns out there were very few trips available with two seats so we wound up booking a trip at the end of April and start of May. I've always been in Hong Kong in the November to February time frame so May (which is a warm month) was going to be a new experience.
Fruit Market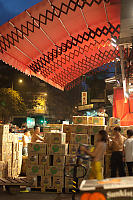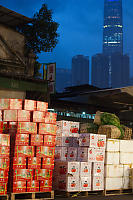 Helen's Grandparents live only a few blocks from the Fruit Market and the jet lag flying from Canada means we are usually up early in the morning but falling asleep by later afternoon. Do you think we have ever been to the fruit market during peak hours? No. This time we decided to make a go of it.



The market is a bit of an anomaly in Hong Kong. It's only two stories high when everything else is 10 stories or higher and it blocks off much of the road way around. Hong Kong is flush with small entrepreneur fruit merchants and I believe this is where they buy their fruit before they start the day. Nobody looks like they are getting rich selling things here - I suspect this is a good example of hard capitalism at work.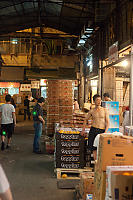 You can come to the fruit market for two reasons - one is to take pictures of fruit and the other is practice street photography. Lots of people are busy doing work and as long as you stay out of the way people don't seem to care you are there. May is a warm month so be prepared for a lot of sweaty workers.



When I visited in November, I was impressed by the selection of apples - Washington state seemed to own the place. Being early summer, tropical fruit was dominating the mix of products available. I'm always on the look out for fruit I don't recognize.



There is a hierarchy of fruit stands in Hong Kong. The fruit vendors near the grandparents house have only basic fruit at reasonable prices. In some of the further markets (such as Ladies street) you can find vendors with a wider selection of fruit. At the Fruit Market you can see a little bit of everything - sadly, you can't easily purchase single items.

Tai O Fishing Village
I went to
Tai O on my first trip to Hong Kong
and got really good light as well as some nice bird photos. Being November, the outside temperature was quite nice so it was easy to dwell for hours. On this trip we arrived earlier in the day in a warmer season - everything was laying low to avoid the heat. Nara was at two naps a day so we couldn't just stick around for nicer light. That said, it's nice to revisit a favorite place with a new person.
Shek O Beach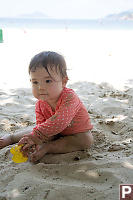 Another favorite place of mine, Shek O has a light sand beach. In November this beach is heaven for a Canadian - very swimmable temperature and an almost empty beach. In May the sand is so hot (by 11am) that you can't walk on it in bare feet. The water is still a lovely temperature but the walk across the beach makes you wish you had brought beach shoes.



We had lunch at one of the outdoor seafood restaurants. It was a great meal but the warm weather was hard on Nara - she napped really well.






---
Tags: Hong Kong(15), fruit market(13), fruit(10), street photography(3), market(2), Tai O(2)
People: Nara(7), Great Grandfather Cheung(2), John(1), Jennie(1), Great Grandmother Yuen(1)
From: John Harvey Photo > Trips out of the Country > Hong Kong 7

Last Modified Wednesday, September 12th, 2012 at 23:01:01 Edit
Copyright and Contact Information.